Well-managed ward rounds vital for patient safety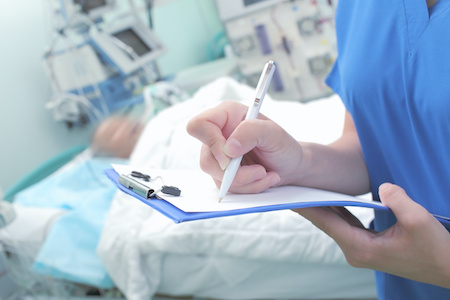 Well-managed ward rounds are key to the delivery of safe and effective hospital care and nurses can play a vital role in leading them, says a new report.
Modern Ward Rounds: Good Practice for Multidisciplinary Inpatient Review was produced jointly by the RCN, the Royal College of Physicians, Royal Pharmaceutical Society, the Chartered Society of Physiotherapy and NHS England, with the support of the GIRFT programme.

It argues that although ward rounds are a focal point for assessment and care planning, they are often limited by staffing issues, poor planning and gaps in training for managing complex, multidisciplinary care. "This leads to frustration for staff and can lead to errors in care, longer stays in hospital and readmissions," the report says.
Through examples of good practice, the document helps clinical teams identify areas for improvement in how ward rounds are run and offers guidance that aims to standardise approaches.

Dr. Nichola Ashby, RCN Head of Learning and Practice Development, said the report placed multidisciplinary assessment at the heart of modern inpatient care.

Nichola said: "This guidance provides the evidence-based template for what patients should expect and it supports the inclusion of patients, families and carers in the process of decision making."

Against a backdrop of a global pandemic and staff shortages, the report highlights the important part nursing staff can play in leading and delivering effective multi-professional ward rounds. In some trusts, for example, advanced clinical practitioners and nurse consultants undertake independent ward rounds and act as senior decision-makers across a range of clinical pathways.

The guidance, produced in partnership with patients and carers, also emphasises the educational value of ward rounds. It says key learning, and actions for further learning, should be summed up at the end of each ward round.

But it stresses too the need for staff training in ward-round practice, saying that ward rounds are a "very applicable area" for quality improvement projects.

Separate guidance that is specific to COVID-19 was made available in November to aid ward-based teams conduct multidisciplinary assessments while maintaining a safe and secure environment.

Nichola said: "The second wave of COVID-19 has highlighted, more than ever, the need for multidisciplinary working across teams to provide safe, quality assured care. The evidence-based, timely assessment of patients by clinicians introduced in this first national standard will provide guidance for ward-based assessment."
Other News
Featured Supplier

With over 37 years' experience, Sychem is a leading provider for disinfection, sterilisation, and decontamination solutions.