Events Diary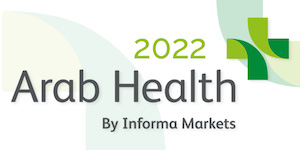 Arab Health is the leading medical equipment exhibition in the Middle East showcasing the latest innovations in healthcare. Along with a wide range of CME accredited conferences, Arab Health brings the healthcare industry together to learn, network and trade.
Arab Health 2022 exhibitors can showcase innovative products and solutions and have more time to meet potential buyers from all over the world weeks before the live, in-person event. Attendee looking to discover and source new products, connect with suppliers can login online to pre-plan their meetings in-person.
Who will attend?
Long established as the 'must attend' event in our region, we attract regional and international healthcare professionals who value the power of learning, networking and business.
Procurement
Biomedical/Clinical engineers
Management of hospitals/clinics
Dealers & Distributors
Senior/Junior Clinicians
Government entities
Investors
Venue
Dubai World Trade Centre
Date(s)
24th - 27th January
Web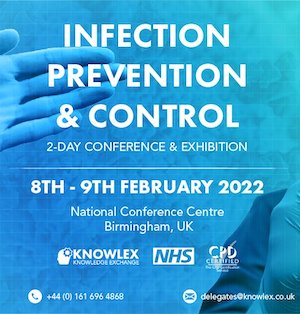 For the first time, the Infection Prevention and Control Conference will take place over two days. At this conference, NHSE/I will announce the new guidelines for Infection Prevention and Control. We will cover over the two days IPC best practice, which will include elements for community and mental health as well as acute nursing. We will also cover clinical topics such as AMR. In 2020 NHSE/I rolled out their vision of the NHS Long Term Plan for Infection Prevention and Control, with strong themes around AMR and Gram-Negative bloodstream infections.
Throughout 2020, and much of 2021, we saw the biggest global pandemic in recent history, COVID19. We will review the lessons learned and re-emphasise the need for effective hand washing and personal hygiene protocols, that quite literally became a life or death necessity.
Following discussions with our partners NHSE/I and PHE, themes for this national meeting will therefore include amongst others, outbreak management, improving hand hygiene (and auditing procedures), and decontamination/cleaning protocols. From the pandemic we learnt much about preventing airborne transmission of infection. There will still be a strong focus on AMR as well as focusing on GNBSI and the common causes such as UTIs.
In this national meeting we will revisit the common themes of infection prevention, review current control standards, and celebrate best practice. Our exhibition will showcase the latest innovation and technology available globally. You will be able to network with over 500 healthcare professionals each day. Delegates will be able to choose to attend either or both days.
Venue
National Conference Centre, Birmingham
Date(s)
8th - 9th February
Email
Web
Central Sterilising Club 60th Anniversary Annual Scientific Meeting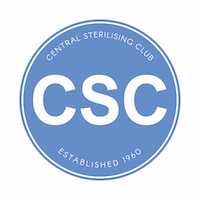 The 2022 CSC Annual Scientific Meeting will feature:
The Annual Kelsey Lecture, "Past Present and Future", Peter Hoffman, "A lifetime experience of decontamination and infection control"
The debate – "Is this a dagger I see before me: do hospitals lack the expertise to function safely without an AE(D)?" Wayne Spencer and Sulisti Holmes come face to face – a spectacle not to be missed!
"Fluid dynamics and microbiology of surgical instrument trolleys" – Andrew Thomas
"Occupational exposure in the decontamination department" – Caroline Drew
"A little water clears us of this deed" - water microbiology and endoscope reprocessing, with apologies to Lady Macbeth "Hospital drains - human ingenuity or bacteria's citadel?" Mike Weinbren
This event is perfect for all individuals with an interest in decontamination and infection prevention including:
Decontamination Technicians
Decontamination Leads/Managers
Infection Prevention and Control Practitioners
Engineers
Providers of Healthcare Services, Products and Equipment
This event presents the chance to learn, obtain credits for continuing professional development and also provides the opportunity to network with multi-disciplinary decontamination practitioners from across the UK.
Venue
Crowne Plaza, Bridge Foot, Stratford-upon-Avon, CV37 6YR
Date(s)
4th - 5th April
Contact
Jimmy Walker
Email
Web

Royal College of Physicians, London on Wednesday 11th May 2022
The conference focuses on a team approach to patient safety through leading excellence in education, delivered by a panel of expert speakers, including Dr Helen Griffiths, Decontamination Advisor for the BSG.
Places are FREE to those involved in endoscope and surgical instrument decontamination, from front line decontamination technicians up to senior management supporting Trusts.
BOOK YOUR FREE PLACE AT: iM-Med.com/events
Venue
Royal College of Physicians, London
Date(s)
11th May 2022
Web
NPAG Theatres and Decontamination Conference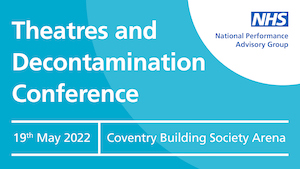 This conference will provide delegates with the opportunity to hear from key speakers on a variety of subjects affecting theatres and decontamination science personnel. The programme will inform and educate delegates on subjects that affect their everyday life all of which will help contribute to the safety and care of our patients.
Why Attend?
This annual one-day conference provides new insights into issues that are being talked about in real-time, today. The conference agenda has been developed by Theatre Managers and Decontamination Leads.
There will be plenty of networking opportunities throughout the day with the chance to meet with NPAG Theatres and Decontamination members who have achieved success and savings through productive benchmarking.
In 2020, delegate feedback was extremely positive with 100% of respondents recording they would recommend this conference to a colleague.
Who Should Attend?
This conference is open to all NHS and non-NHS, Theatres, Clinical, Surgical and Decontamination Managers/Leads.
Venue
Coventry Building Society Arena
Date(s)
19th May 2022
Contact
Marie Cherry
Email
Web

The EBME Expo is an independent educational event bringing together healthcare professionals who are responsible for the management of medical equipment. These healthcare professionals are involved in areas such as procurement, maintenance, user training, and managing inventories.
Thanks to the sponsorship of our 90+ exhibitors, this independent exhibition is offered free of charge to all visitors. Furthermore, there are three workshops in the break out areas and many of our exhibitors provide technical demonstrations.
For our 2022 event on the 28th & 29th June, we are excited to announce that we will be moving to the Coventry Building Society Arena (Formerly the Ricoh Arena), Coventry, UK. This larger venue has been chosen so that we can expand to host a second conference focusing on 'The Operating Theatre', and to keep up with demand from both exhibitors and delegates. Operating theatre staff are the largest group of medical equipment users in hospitals, and this is why we believe they will complement our current audience.
We are delighted to welcome Rob Brothwood, Senior Operating Department Practitioner at the Royal Liverpool and Broadgreen University Hospital, as the Chairman for the additional conference area, to which we will be welcoming Specialist EBME Technicians, Operating Department Practitioners (ODP's), Theatre & Recovery Nurses, Anaesthetists, Surgeons, plus others…
Additional conference delegate* benefits include:
Eight speaker sessions each day in the EBME conference hall, focussing on innovations in medical equipment technology and maintenance on day one and medical equipment management, procurement, and training on day two.
Six speaker sessions each day in the Operating Theatre conference hall, focussing on innovations in Medical Equipment Technology on day one and Management, Procurement, and Training on day two.
Each attending delegate will receive a certificate for their continuing professional development (CPD) record.
Refreshments throughout the day including lunch.
Free entrance into the prize draw.
Conference delegate gift bag.
Venue
Coventry Building Society Arena, Phoenix Way, Rowleys Green, Coventry CV6 6GE
Date(s)
28th - 29th June
Web
Featured Supplier

As the UK's leading provider of hospital engineering, decontamination and estates & FM training within healthcare, Eastwood Park's accredited training is delivered to NHS Trusts and private medical organisations not only within the UK but worldwide.
Upcoming Events
Dubai World Trade Centre
24th - 27th January
National Conference Centre, Birmingham
8th - 9th February
Crowne Plaza, Bridge Foot, Stratford-upon-Avon, CV37 6YR
4th - 5th April
Royal College of Physicians, London
11th May 2022
Coventry Building Society Arena
19th May 2022
Coventry Building Society Arena, Phoenix Way, Rowleys Green, Coventry CV6 6GE
28th - 29th June
Access the latest issue of Clinical Services Journal on your mobile device together with an archive of back issues.
Download the FREE Clinical Services Journal app from your device's App store