Luton and Dunstable hospital adopts blood clot prevention device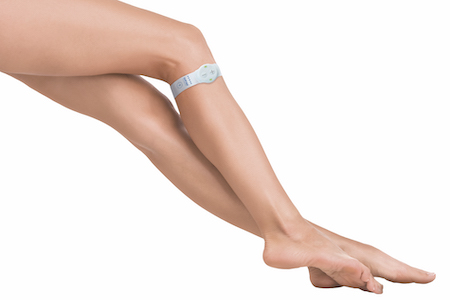 Luton and Dunstable University Hospital is among the first NHS hospitals to deploy the Geko device for VTE prevention in immobile acute stroke patients who cannot be prescribed the current standard of care.
VTE remains a common and life-threatening complication in acute stroke, which is further exacerbated if patients are immobile for prolonged periods. In this circumstance NICE and the UK National Clinical Guidelines for Stroke both recommend intermittent pneumatic compression (IPC), a boot-like cuff that compresses the legs to move blood, as the primary method of mechanical VTE prevention (NICE NG89 2018). IPC is, however, not suitable for all patients, due to vascular disease, fragile skin, reaction to the cuff materials and patient intolerance, creating a significant unmet need.
In a clinical audit of 320 patients, Luton and Dunstable University Hospital quantified the number of acute stroke patients who could not be prescribed IPC. To this unmet need patient group they instead prescribed the Geko device as an alternative mechanical intervention. The watch-sized device increases blood flow via painless electrical pulses to the leg, at a rate equal to 60% of walking without a patient having to move, thereby preventing vascular complications associated with restricted mobility, a common risk for bed-bound stroke patients.
The audit results showed a 17% unmet need in all mechanical prophylaxis prescriptions, when the Geko device was on service, and reported the need for an alternative mechanical prophylaxis intervention and the need to prescribe the Geko as an alternative anti-stasis device. These findings are aligned to the IPC compliance findings reported by Roffe and Natarajan1, and the CLOTS3 study2 that reports that patients immediately contraindicated to IPC and patients who become intolerant of IPC could be exposed to a VTE risk of up to 8.7%. The L&D enhanced pathway now offers a meaningful alternative mechanical intervention.
Dr. Lakshmanan Sekaran, consultant stroke physician and clinical director at the Luton and Dunstable Hospital, said: "When treating acute stroke patients, VTE is a very real and present threat to their recovery. The Royal Stoke real-world data, which led us to consider the Geko device, reinforced that while IPC and blood thinners are effective for most patients, a small but significant number are unable to tolerate these methods, leaving them at greater risk of blood clotting.
"Recognising the need to address this patient group, we embraced the opportunity to quantify our unmet need and determine the effectiveness of the Geko device as an alternative mechanical intervention. The device is now in routine use across our stroke units, when IPC cannot be prescribed and ensures that all patients can now receive post-stroke VTE prevention."
NICE guidance (MTG19) recommends use of the Geko device for VTE prophylaxis in all hospital patients where standard prophylaxis treatments are impractical or contraindicated. The Geko device is a neuromuscular electrostimulation device which prevents blood stasis in the deep veins of the calf by activation of foot and calf muscle pumps via stimulation of the common peroneal nerve.
References
1. Roffe & Natarajan et al. https://www.gekodevices.com/wp-content/uploads/2020/01/VTE-Prevention-Stroke-Royal-Stoke-Poster-1383-Patients.pdf.
2. Dennis M, et al. Effectiveness of intermittent pneumatic compression in reduction of risk of deep vein thrombosis in patients who have had a stroke (CLOTS 3): a multicentre randomised controlled trial. Lancet. 2013; 382(9891):516-24.
Other News
Featured Supplier
For over 50 years, the IDSc has supported the growth and evolution of decontamination sciences in the UK through a respected and renowned education and training programme, by monitoring and maintaining professional standards and by actively promoting continuous research and development.