Medstor and Mailbox support hospitals during pandemic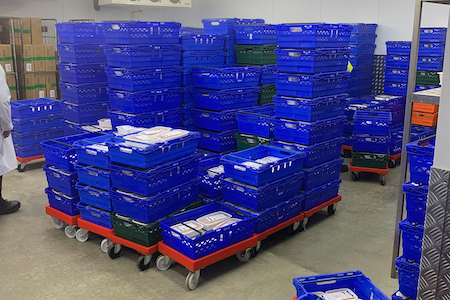 Medstor recently joined forces with sister company Mailbox to help NHS Greater Glasgow and Clyde (NHSGGC) keep its food production service running smoothly during increased demand for hospital meals during COVID-19.
NHSGGC operates two large cook freeze production units (CFPUs), where food is prepared, cooked and frozen. Once dishes are cooked, they are decanted into smaller portion packs and immediately blast frozen using specialist freezing equipment. They are then stored in the CFPU freezer holding area before being packed and dispatched to each hospital site, where the meals are regenerated and served. Teamwork between Medstor and Mailbox helped to support the outstanding work done by the unit and keep product moving and patients fed.
The CFPUs provide 7,652 meals a day, a total of 38,260 meals each week between the two sites – a number that has increased during COVID-19. The units have used Mailbox's robust food storage containers successfully for several years and an order was placed for an additional 1,200 containers to help deal with extra stock, along with 150 freezer-safe dollies.
Other News
Featured Supplier


Joerns Healthcare, the home of Oxford Hoist, is committed to improving patient and care-giver experiences, placing the well-being of others at the centre of everything we do.
With over 60 years experience, our patient handling solutions help prevent caregiver injuries caused by manual lifting and we strive to establish sustainable...