Bender UK Ltd
Low Mill Business Park

Ulverston
Cumbria
LA12 9EE
United Kingdom
44 (0) 1229 480123
44 (0) 1229 480345
COMPANY INFORMATION
Bender UK is part of the Bender Group, a global family owned company with a history of technology innovation in the design and manufacture of electrical safety solutions.
Established since 1997 - Ulverston based Bender UK is highly regarded for its expertise as a leader in the design, supply, installation and service of turnkey operating theatre packages and critical care power solutions for group 2 medical locations.
As the UK's market leader in critical care power, Bender UK is highly regarded for its in‑house design and manufacture of Medical IT systems (IPS) and Sil 2 approved ATICS® auto‑changeover and monitoring devices which are supplied into the healthcare market packaged with uninterruptible power supplies (UPS). Over 500 NHS and private hospitals have Bender power at the heart of their electrical infrastructure.
Bender UK can supply and install a full suite of clinical items including Contempo pendants, Merivaara Q-Flow Operating Lights, Tables and AV systems. The company is also a leader in hygienic touch screen theatre control (TCP) solutions which are produced in-house to unique customer requirements, incorporating x-ray viewers and PACS screens and other customised components.
Bender critical care power and operating solutions are supported by Bender's extensive service and engineering team who deliver preventative maintenance, 24/7 technical support and call‑out facility across the UK and the Republic of Ireland 365 days of the year.
As industry experts Bender has a long history in the design, innovation, manufacture and supply of electrical safety solutions to customers across the globe. Established for over two decades in the UK, Bender UK has become the market leader delivering excellent quality products, providing comprehensive and informed advice and supporting customers from design and planning stages through to implementation and after sales support.
PRODUCTS AND SERVICES
Featured Supplier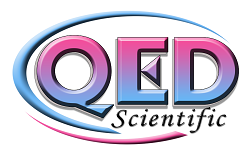 QED SCIENTIFIC manufacturers an extensive range of warming cabinets supplying patient warming equipment to the NHS and private hospitals for 20+ years. The company's warming cabinets' for fluid, blanket, and contrast media provide a cost-effective means of storing and warming a wide variety of clinical items.