Important lessons from COVID-19 battle for war on AMR, says think tank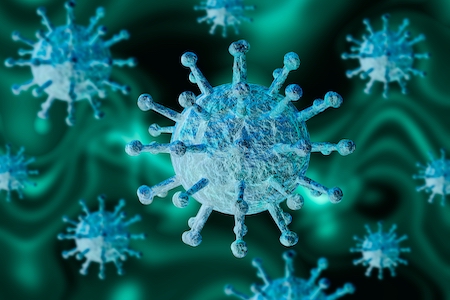 ​If unchecked, Antimicrobial Resistance (AMR) will "have the same impact on people's lives and the economy that COVID-19 is having," according to former Chief Medical Officer, Dame Sally Davies, in a new report by the independent think tank, Reform.
While the true impact of COVID-19 is not yet fully understood, the pandemic is likely speeding up the risk of AMR. 92 per cent of COVID-19 patients admitted to intensive care units around the world received some form of antibiotic treatment, which are commonly used to treat secondary illnesses, such as pneumonia.
The World Health Organization cites AMR as one of the biggest threats to global health. Already, a third of urinary tract infections in England display resistance to drugs. 60,000 'superbugs' – resistant to antibiotics – emerged last year.
While praising the UK Government's efforts to stimulate the development of new antibiotics, Reform is calling for a wider approach to capitalise on the ground gained in testing, vaccine research and infection prevention, during the fight against COVID-19.
Diagnostics were identified as an area of untapped potential by the think tank, which is calling on Ministers to explore a 'test, test, test' approach to tackling AMR, as has been deployed against coronavirus.
The UK has raced to expand its local diagnostics capacity in response to COVID-19, spending £1.3 million on evaluating new tests in health care settings, alongside new 'Lighthouse Labs' to increase capacity.
Better use of on the spot tests, which allow clinicians to distinguish between bacterial and viral infections, would help to tackle unnecessary prescribing of antibiotics as a default option by doctors unaware of the specifics of their patient's condition.
Reform is calling on NHS England to immediately commission a national assessment of point-of-care-diagnostics to maintain the 'test, test, test' momentum. A renewed focus on vaccination, to prevent future illness and reduce demand for antibiotics, is also suggested by the think tank.
£131 million has been spent on state-of-the-art vaccine manufacturing facilities during the pandemic, alongside a new NHS COVID-19 Vaccine Research Registry to fast track sign-ups for clinical trials. These initiatives should be used to stimulate further investment into vaccine R&D.
The focus on hygiene procedures, sanitation, and monitoring of infections within care settings, is another key lesson from the pandemic identified by the think tank which if continued could help tackle AMR.
Prior to the pandemic, the Infection Prevention and Control (IPC) workforce required "urgent attention" due to reduced investment and workforce shortages, particularly in community and primary care settings. Reform is calling for ongoing investment to train and upskill healthcare staff in IPC, beyond the pandemic.
Eleonora Harwich, director of research, Reform, said: "Although the pandemic has caused an unprecedented level of hardship, there are invaluable lessons from the battle against COVID-19 which will help us win the war on AMR. It's vital that the Government maintains the momentum gained across diagnostics, vaccine development and infection reduction practices, alongside efforts to stimulate the development of new antibiotics. The pandemic must also provide impetus for the world to step up its response to this looming threat."
Dame Sally Davies, UK special envoy on Antimicrobial Resistance, said: "While the world's attention is rightly focused on the COVID-19 pandemic, we cannot afford to ignore the relentless, silent global health pandemic that is AMR. The clock is ticking, and we must up our pace if we want to preserve lifesaving antibiotics for future generations. The UK has made incredible progress in the last few years, but like with COVID-19, AMR is not a single-nation issue and can only be tackled through international collaboration and with the support of industry.
"The UK is already at the forefront and now will continue to lead AMR efforts with global partners to save modern medicine. We must replenish the pipeline of new antibiotics, but also surveillance, research and awareness, ensuring that we have a toolkit of effective, appropriate and accessible diagnostics, vaccines, and alternative therapies. The time to act is now."
The report, which was supported by BD, is available here.
Other News
Featured Supplier

Since 1986 Mediplus has used its expertise in manufacturing to develop and launch products for the Urodynamics, Urology, Urogynaecology, Gynaecology, Anaesthetics, and General Surgery sectors.
Upcoming Events
Marshall Arena, Stadium MK, Milton Keynes Stadium Way West Milton Keynes MK1 1ST
30th June - 1st July
Crowne Plaza, Bridge Foot, Stratford-upon-Avon, CV37 6YR
4th - 5th April
Access the latest issue of Clinical Services Journal on your mobile device together with an archive of back issues.
Download the FREE Clinical Services Journal app from your device's App store