Northern Italian town combats coronavirus through mass testing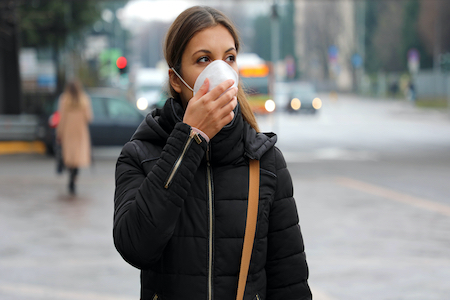 An Italian town is reported to have eradicated coronavirus through early and widespread diagnosis and testing. Wesley Baker, the CEO of a manufacturer of a 'breath test' for COVID-19, argues that this shows the impact of mass screening. He is calling on the UK to speed up efforts to test and diagnose as many people as possible.
The number of cases of COVID-19 in Italy has passed 40,000 and the number of deaths reached 3,405 – the highest official number recorded anywhere in the world so far. Northern Italy has been the region hardest hit by the outbreak, particularly in cities such as Bergamo and Milan, where lockdown looks set to be extended beyond the current deadline. Vò, however, is one such town that has now completely eradicated the presence of the virus.
Wesley Baker, CEO of Ancon Medical, says that this has been achieved by testing and subsequently isolating all of its 3,000 inhabitants following what was at the time, Italy's first recorded death from COVID-19.
The widespread testing of not just those who were showing symptoms but all inhabitants showed that many of the infected were asymptomatic and yet still spreading the disease. Two rounds of testing found 89 and then six cases respectively and after 14 days of isolation the number of cases was down to zero. Until the 11th of March the UK capacity for testing was around 4,000 a day, although that is set to be increased to a target of 25,000. Current estimates that over 70,000 people in the UK are likely to already have the virus, place this capacity as potentially insufficient.
Wesley Baker commented: "This case study demonstrates the power and effectiveness of early and widespread diagnosis and testing for COVID-19. While the sample size is small it does show the impact that asymptomatic individuals are having on the spread of the disease. It is entirely reasonable for people to have this virus without ever knowing they are infected – stopping these individuals from having any contact with others is the key to reducing the reproduction number (how many people each infected person passes it on to, known as R).
"We should be doing everything within our power to test as many people as possible in a manner which keeps vulnerable people as safe as possible. This relies on the ability to speed up existing tests – which take around two days – or adopt new technology. World Health Organization advice encourages mass testing and we currently are not doing enough to fulfill that advice. In such a fast moving situation, having the most accurate and up-to-date information and data is of the utmost importance.
"We are keen to help the NHS tackle this disease through fast diagnosis and effective screening. It has been made clear that the Government will invest heavily into getting this right but what we need to see is effective cooperation between the public and private sector. Innovative technology such as ours could have an enormous impact if implemented correctly."
Ancon Medical's Nanoparticle Biomarker Tagging (NBT) device works with AI and machine learning to identify the breath biomarker profile of a COVID-19 positive patient – allowing the device to diagnose the presence of the disease in as little as 10 minutes, without the need to send samples to labs, as is currently the case. It can also provide rapid response screening and diagnosis technique for future outbreaks.
Other News