Patient wins settlement for injury caused by 'never event'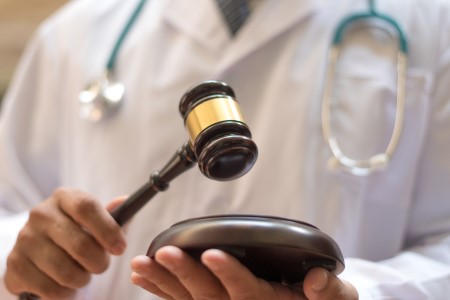 A dad left permanently disabled after a hospital wrongly flushed food into his lung has called for lessons to be learned from his case. Michael Moy had liquid administered into his right lung instead of his stomach on at least two occasions after staff did not check the position of his feeding tube before commencing his feed.
The 58-year-old was subsequently diagnosed with pneumonia and an abscess in the lung following the incident at Queen's Hospital, Romford. He had previously undergone surgery. Michael now has permanent lung disease, which is expected to deteriorate, has a shortened life expectancy and has been forced to retire from his job a railway emergency planning manager on health grounds.
Michael, of Basildon, Essex instructed expert medical negligence lawyers at Irwin Mitchell to investigate his care under Barking, Havering and Redbridge University Hospitals NHS Trust. He has now joined his legal team in calling for the NHS to do more to reduce the number of 'never events' and crucially to be open and honest when these incidents occur.
It comes after Irwin Mitchell secured an admission of liability and an undisclosed settlement to cover his future care, medical treatment and loss of earnings.
Latest NHS figures found there had been nearly 300 never events in the past six months. These included 14 incidents where food was administered through a gastric tube which was in the respiratory tract.
"The number of never events that the NHS is continuing to record is worrying. As with Michael's case, every time a never event occurs, it is vital that they are thoroughly investigated and that information is shared across the NHS so that they can eliminate such issues," commented Richard Kayser, Senior Associate Solicitor.
Other News