Hilditch Group Ltd
The Auction Rooms
Gloucester Road Industrial Estate

Malmesbury
Wiltshire
SN16 9JT
United Kingdom
+44(0)1666 822577
COMPANY INFORMATION
Medical Equipment Auctioneers & Asset Management Professionals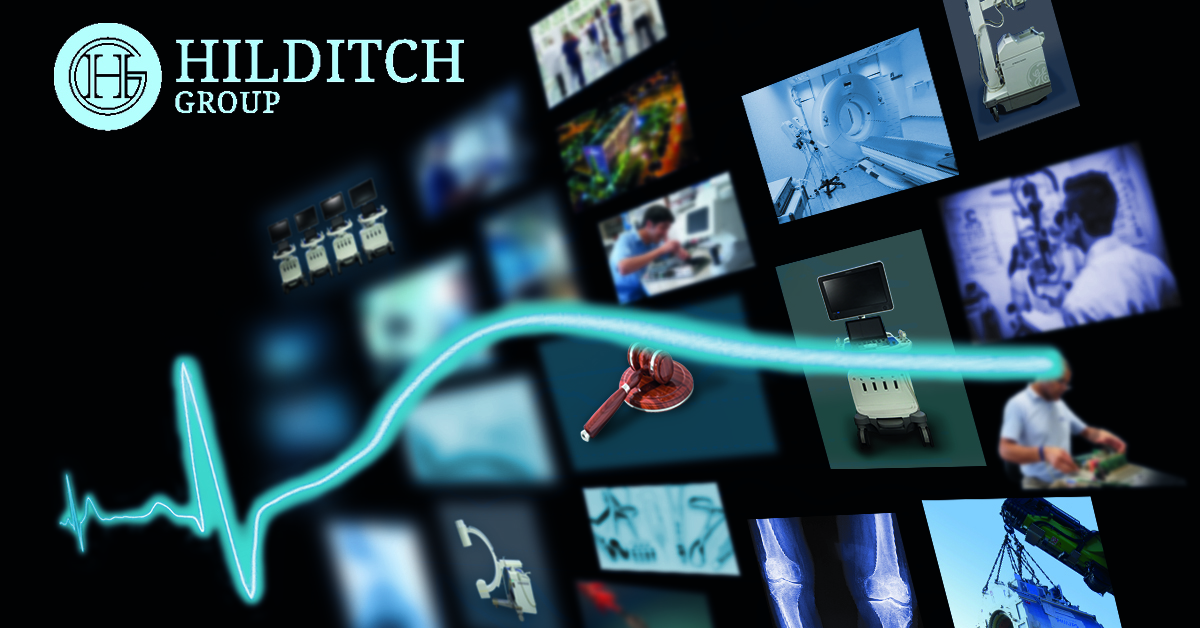 The Hilditch Group is the leading medical equipment auctioneer in Britain, with around 30 individual auctions and over 2,000 lots of high-quality specialist medical devices per month. Established in 1990 the Hilditch Group has been the foremost authority in the market for the re-sale and asset management of equipment for the National Health Service and private healthcare sectors. With over 30 years of experience in the resale and distribution of bio-medical devices, the Hilditch Group is also the longest running medical auctioneer in the UK.
The Hilditch Group has established its strong knowledge base over the decades across Europe, by providing an efficient and professional service, maximising potential returns for its clients. We can facilitate the sale and removal of large fixed imaging equipment, and have completed 90 site clearances and on-site projects. The Hilditch Group has dedicated representatives for France, Germany, Spain, Portugal and the UK.
The Hilditch Group continues to add customer value through its ever-expanding range of services.
Accurate Valuation of Medical Equipment
With excellent valuation capabilities, the Hilditch Group's team of experienced valuers accurately predicts the re-sale value of your medical equipment, allowing your organisation to make an informed choice before auction.
The Hilditch Group also offers a software-as-a-service solution for those looking to manage a large number of medical assets and is an invaluable subscription-based tool for organisations involved in medical equipment resale, providing data-verified information that puts the client in control. Hilditch Connect helps its subscribers to plan life-cycle management of medical assets, minimising risk, maximise future return from medical device investment and minimise unnecessary disposal. Visit Hilditch Connect to find out more: www.hilditchconnect.com
Medical Engineering
The Hilditch Group's qualified and accredited medical engineering staff have extensive experience and provide a wide range medical engineering services and support for both on and off-site requirements, including:
Long Term Maintenance of Medical Equipment - Our Planned Preventative Maintenance Contracts (PPMC's) provide healthcare establishments with the reassurance that their medical equipment is free of fault and working to the manufacturer's specification, reducing equipment downtime.
Equipment Testing & Condition Reporting - Using the most up-to-date test equipment, our team of medical engineers will test all types of medical equipment and will provide a condition report accordingly to provide you with all details that you need to make an informed decision about your medical devices.
Medical Equipment Repair - We repair most types of medical equipment, offering a 72-hour turnaround on equipment brought to the Hilditch Group's medical engineering department. Our engineers can also repair medical devices on location and all of our repairs are guaranteed for 3 months.
Data Wiping - Many medical devices have data stored on their hard drives. Simply destroying the hard drive renders the equipment unusable and hugely decreases the resale value. Our data cleansing service securely removes confidential patient identifiable data (PID) from medical equipment that complies with ICO Guidelines.
Inventories & Assessments - Our medical engineers and valuers provide a complete inventory service, or can simply verify your current inventory and is designed to keep an over view on large amounts of medical equipment. Using our asset management system, we compile an inventory and barcode all your equipment, ensuring quick and accurate identification.
Decontamination - We carry out the decontamination of most types of medical equipment and facilities. This service has proven useful in the past for institutions such as nursing homes. Our fully certified contamination services comply with the Medicines and Healthcare Products Regulatory Agency (MHRA DB2003(05)) standard.
Visit the dedicated website for your country to find out how the Hilditch Group can facilitate the resale of your used medical equipment:
Hilditch UK Hilditch France Hilditch Iberia Spain Hilditch Deutschland Hilditch Connect
& Portugal
www.hilditchgroup.com www.hilditch.fr www.hilditch.es www.hilditch.de www.hilditchconnect.com
Download our Bid Now App here:
PRODUCTS AND SERVICES