To keep up with the ever-growing demand of state-of-the-art products, MMM's philosophy of growth through innovation plays a critical role in the development of its product range.
The company considers itself as not just a supplier of high-end medical devices, but as a complete supplier of end-to-end solutions that make a contribution to society, ensuring people become healthy and remain healthy.
MMM in Healthcare – Complete End to End Solution from a Single Source
MMM Offers a comprehensive range of expertise for all aspects of the Central Sterile Services Department. Key highlights include:
The manufacture of washer disinfectors, autoclaves and steam generators
Full lifecycle support of machine components and parts
Detailed planning and consultation
Software for batch data collection
Project management of installation and logistics
Service, which includes the validation of all processes in accordance with the relevant standards and directives.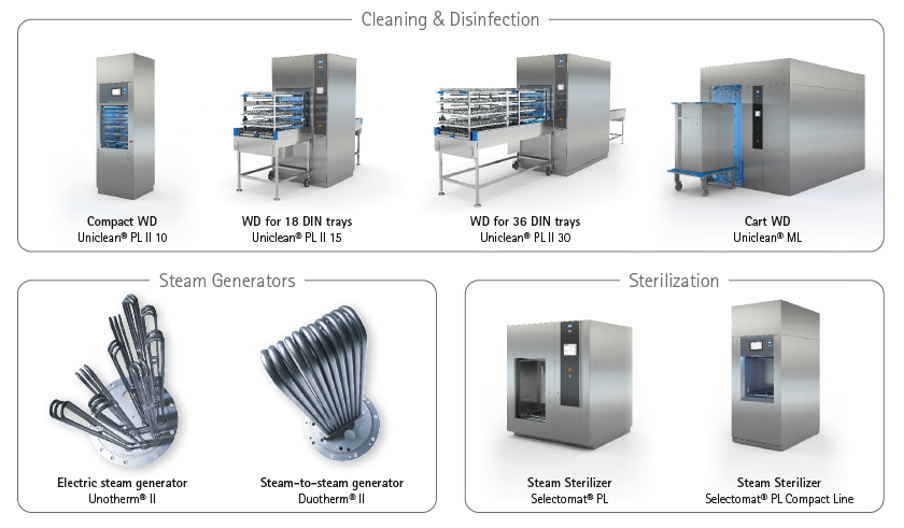 Washer Disinfectors
Uniclean PL II 15 is the company's most sought after single chamber, 18 Din capability, Da Vinci validated washer disinfector. It comprises a unique chamber design and patented lateral drying fan that produces optimal cycle times, due to the efficiencies in the drying system.
Uniclean PL II 30, is the newest member of the Uniclean PL II family. The double capacity, 36 Din washer disinfector is suitable for instruments and containers. Featuring twin lateral drying fans in a single chamber, the unique configuration of Concept 15.30 helps maximise department throughput.
Take a look at the video below for a detailed overview of Concept 15.30 and visualise how this could have a positive impact within your department.
Autoclaves
MMM sterilisers are constructed using high quality components, all of which are available from well-known suppliers, Burkert, Spirax, Siemens to name a few. The equipment is fully compliant with DIN EN 285 and bears the CE marking in compliance with MDD.
The Selectomat PL has a unique compact modular design giving complete accessibility by fully opening hinged, key lock access front fascia panels. This maximises the onsite engineer's ability to not only service each autoclave, but also to test and maintain their ongoing performance. All MMM loading equipment has been designed for ease of use, easy roll loading systems that are able to be integrated into pre-existing pass-through chambers.
Steam Generators
If a supply of pure steam is not available on site, you can operate your steriliser with a MMM steam to-steam generator. It does not matter how your facilities are laid out, the steam-to-steam.
Duotherm II The steam-to-steam generator can be operated with the steriliser controls. The Duotherm II also offers the option of converting heating steam to pure steam in facilities with a separate heating steam supply.
The Unotherm II Electric steam generator that offers high performance with low energy requirements. It has been specially designed for facilities without a central steam supply. It can also be used for economical steam generation in an emergency or at weekends. The steam generator output can be adjusted optimally for the requirements of the connected steriliser.
For Further Information please do get in touch with us via the following:
Web: www.mmmgroup.com
Email: sales@mmm-group.co.uk
Phone: 0113 3910717