CQC warns of 'heavy toll' on staff in health and social care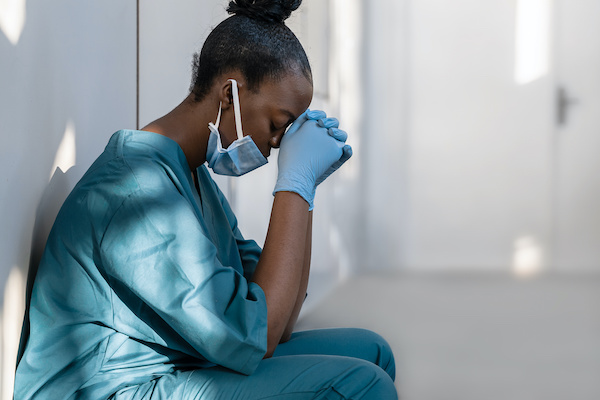 A new report has highlighted the enormous pressures being faced by the health and social sector.
The Care Quality Commission's (CQC's) annual assessment of the state of health and social care in England has warned of the heavy toll the pandemic taken on the workforce. Staff are "drained in terms of both resilience and capacity", which threatens to impact on the quality of care they deliver.
The report states that staffing pressures are being felt across all health and care settings. However, the impact is being seen most acutely in adult social care, where providers are competing for staff with the retail and hospitality industries.
Data from information submitted to CQC by providers of residential care shows the vacancy rate rising month-on-month from 6% in April to 10.2% in September. Some care homes whose attempts at recruitment have failed are now having to cancel their registration to provide nursing care, leaving residents looking for new homes in local areas that are already at, or close to, capacity.
The CQC welcomed the Government's £5.4 billion investment to help address the challenges faced by social care, but added that if this money is to make a difference, it must be used to enable new ways of working that recognise the interdependency of all health and care settings, not just to "prop up existing approaches and to plug demand in acute care".
Five hundred million pounds has been committed to support the adult social care workforce, which is urgently needed for improvements on training, career development and terms and conditions in order to attract and retain staff. The CQC says that work needs to begin now in order to address the immediate problem of rising vacancy rates as well as planning for the future.
The CQC went on to state that if funding was committed for a longer period, care providers could begin to make longer term investments in staffing to provide "much-needed step-down care" and build "more meaningful relationships" with primary, secondary and community care services.
The CQC also highlighted inequalities. People with a learning disability, for example, are significantly more at risk from COVID-19 – but the CQC's review of community care for people with a learning disability found that their physical health, including how COVID-19 may present, was not always considered. Inspections of services for people with a learning disability or autistic people have continued to find examples of care so poor that action is needed to keep people safe.
CQC has also maintained a strong inspection focus on maternity care, with a recent report highlighting disparities in experiences and outcomes for Black and minority ethnic women. Although there is much good care, CQC said that it "remains concerned about maternity services", with 4% rated inadequate and 37% rated requires improvement for safety.
In both instances, concerns about quality of care predate COVID-19. While specific staffing issues – shortages of midwives and learning disability nurses – have further heightened problems. CQC has highlighted the need for wider improvements in culture, leadership and engagement with people who use services, in both maternity services and services for people with learning disability and or autism.
Ian Trenholm, Chief Executive of CQC, said: "As we go into winter, the health and care workforce are exhausted and depleted – which has clear implications for the vital care they deliver. While staffing is an issue for all sectors, we're particularly concerned about adult social care. We're seeing rising vacancy rates, some providers having to hand back their registrations as they don't have enough staff to deliver care, and examples of quality suffering due to lack of staff.
"If the new Government funding is to have an impact, it needs to be used to do things differently and to develop genuinely collaborative ways of working across all care settings and staff need to be supported and rewarded. In order to attract and retain the right people to work in adult social care, there must be a sharp focus on developing a clearly defined career pathway – linked to training, supported by consistent investment, and better terms and conditions and pay.
"We're also highlighting the need for an extension to the Discharge to Assess funding in order to capitalise on the benefits it has delivered so far – as well as the need for additional targeted funding immediately to help areas that are struggling get through winter.
"Increased stability on funding and a clear workforce plan for social care benefits everyone – but further instability could result in a ripple effect across the wider health and care system which risks becoming a tsunami of unmet need across all sectors, with increasing numbers of people unable to access care."
Commenting on the latest State of care report, Richard Murray, Chief Executive of The King's Fund, said: "The CQC report provides yet more evidence of neglected social care services buckling under intense pressure that has built up over decades. It is abundantly clear that the social care system cannot continue in its current form and is failing the people who need it. As well as the impact that has on the quality of people's lives, there is a knock-on impact on A&E departments, primary care and other health and care services.
"While the Government's commitment to bring forward funding reform is welcome, the sector is at breaking point now and needs an urgent cash injection at next week's Comprehensive Spending Review to stabilise the sector and ensure people's needs can be met.
"CQC are right to highlight the sustained pressures on staff right across the health and care system. Chronic staff shortages heap further pressures on those still working in health and care services, and the pandemic has exacerbated this vicious cycle. High staff vacancy rates are not a new phenomenon, yet despite pledges, promises and manifesto commitments, there is still no fully-funded workforce strategy chart a path out of the staffing crisis."
Other News
Featured Supplier

Intersurgical is a global designer, manufacturer and supplier of a wide range of high quality medical devices for respiratory support. We provide flexible patient solutions for airway management, anaesthesia, critical care and oxygen & aerosol therapy, for use within emergency care, hospitals and also in the home.
Upcoming Events
ICC, Birmingham
20th – 23rd June 2022
Coventry Building Society Arena, Phoenix Way, Rowleys Green, Coventry CV6 6GE
28th - 29th June
Edgbaston Stadium, Birmingham
27-28 September 2022
Bournemouth
17-19 October 2022
Pendulum Hotel and Manchester Conference Centre, Manchester
3rd November 2022
Dusseldorf Germany
14th November - 17th November
Access the latest issue of Clinical Services Journal on your mobile device together with an archive of back issues.
Download the FREE Clinical Services Journal app from your device's App store