Drop in staff COVID-19 infections after PPE upgrade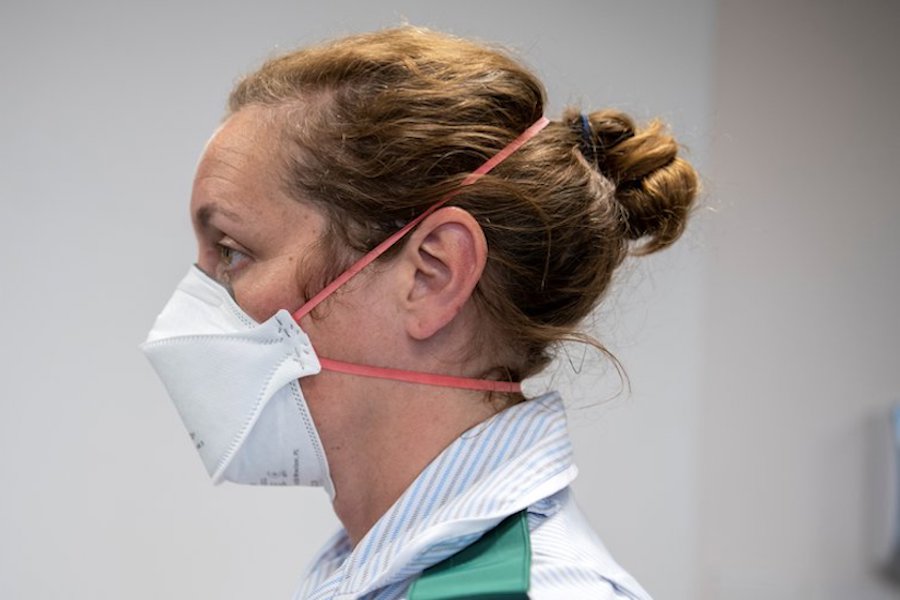 A Cambridge study has shown a significant drop in COVID-19 infections in frontline hospital staff after their face masks were upgraded.
The findings are reported by a team at the University of Cambridge and Cambridge University Hospitals (CUH) NHS Foundation Trust. Since the start of the pandemic, CUH has been screening its staff for the COVID-19 virus, including those with no symptoms.
The data was used to track infection rates in the first wave of the pandemic and showed that staff caring for COVID patients were at much higher risk of infection compared to staff on non-COVID wards, even when using the recommended PPE.
As a result, in December 2020, the hospital changed its respiratory protective equipment for all frontline staff from FRSMs (fluid resistant surgical masks) to FFP3 respirators. Once fitted they provide a tight seal around the nose and mouth, to stop airborne infection from being breathed in and out. They can be classified as FFP 1, FFP 2 or FFP 3 with the highest number providing the highest protection.
Following the upgrade in PPE, the study found hospital acquired infection rates for those working on COVID wards dropped by up to 100%. Once FFP3 respirators were introduced, the number of cases attributed to exposure on COVID wards dropped dramatically
Dr. Mark Ferris from the University of Cambridge's Occupational Health Service, one of the study's authors, said: "Based on data collected during the second wave of the pandemic, we developed a mathematical model to look at the risks faced by those staff dealing with COVID patients on a day to day basis. This showed us the huge effect that using better PPE could have in reducing the risk to healthcare workers."
According to their model, the risk of direct infection from working on a non-COVID ward was low throughout the study period, and consistently lower than the risk of community-based exposure. By contrast, the risk of direct infection from working on a COVID ward before the change in respiratory protective equipment was 47 times higher than the risk of community-based exposure.
Dr. Chris Illingworth from the MRC Biostatistics Unit at the University of Cambridge, said: "Once FFP3 respirators were introduced, the number of cases attributed to exposure on COVID wards dropped dramatically – in fact, our model suggests that FFP3 respirators may have cut ward-based infection to zero."
Dr. Nicholas Matheson from the Department of Medicine at the University of Cambridge, added: "Although more research will be needed to confirm our findings, we recommend that, in accordance with the precautionary principle, guidelines for respiratory protective equipment are further revised until more definitive information is available."
The data suggest there's an urgent need to look at the PPE offered to healthcare workers on the frontline
Dr. Michael Weekes from the Department of Medicine at the University of Cambridge, continued: "Upgrading the equipment so that FFP3 masks are offered to all healthcare workers caring for patients with COVID-19 could reduce the number of infections, keep more hospital staff safe and remove some of the burden on already stretched healthcare services caused by absence of key staff due to illness. Vaccination is clearly also an absolute priority for anyone who hasn't yet taken up their offer."
Responding to the report, Rose Gallagher, RCN professional lead for infection prevention and control, commented: "This important study adds even further weight to our continuing call for nursing staff to be better protected from COVID-19 and given routine access to the highest levels of respiratory protective equipment whenever they need it.
"We are still seeing cases of COVID-19, even from some who have been vaccinated. It is vital staff are fully protected and there are no attempts to restrict or ease off on measures to further reduce the risk of infection."
Though a relatively small study, the RCN believes its findings are significant as it provides evidence of infection acquired in the workplace, specifically on wards caring for patients with COVID-19.
"This challenges previous perceptions that staff who get infected with COVID-19 do so because of exposure outside of work," Rose added. "The rapid reduction in infections on the red ward at a time of rapid increases in community infection demonstrates this clearly."
The research was funded by Wellcome, Addenbrooke's Charitable Trust, UK Research and Innovations, and the NIHR Cambridge Biomedical Research Centre.
Follow the link to the research paper:
https://www.authorea.com/users/421653/articles/527590-ffp3-respirators-protect-healthcare-workers-against-infection-with-sars-cov-2?commit=e567e67501cd6ee0dd1a6e8e4acdf2c4fd70e0ec
Other News
Featured Supplier
Here at Hupfer, we always aim to provide useful and innovative products to our customers in order to help them work more efficiently and safely day to day. Our products are created with our customers in mind and as a result, we've become leaders in developing and producing storage and handling solutions for the medical industry.
Upcoming Events
ExCel London
9th - 10th November 2021
Crowne Plaza, Bridge Foot, Stratford-upon-Avon, CV37 6YR
4th - 5th April
Access the latest issue of Clinical Services Journal on your mobile device together with an archive of back issues.
Download the FREE Clinical Services Journal app from your device's App store