State-of-the-art surgical lights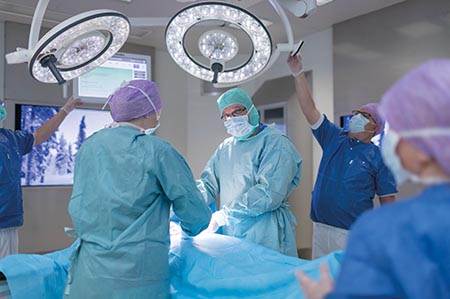 MERIVAARA has unveiled its latest state-of-the surgical lights, marking its 120th anniversary.
Available through BENDER UK, the new Q-Flow 2021 surgical light has been improved to incorporate a number of new, smarter features to bring even more comfortable working conditions to surgeons. These include:
Improved resilience: The new Q-Flow light is equipped with a low voltage detection feature, which means that when the hospital encounters a mains power outage and battery back-up sources are consumed, the user/surgeon is notified. This new feature is also available on the mobile device. A small internal battery in the light head minimises disturbances during blackouts. Even during transient faults in the electric grid, the Q-Flow light can be controlled. The device is immediately useable while the mains power returns. No reboot is needed, meaning no interruptions.
Extended autonomy: This enables extended operating time under battery backup. When the device is running on the hospital's back up power system, a light detects that there is lower voltage to reduce the light's illumination. The benefit of this means the operating time of the device is extended up to six hours.
A new touch screen on the control monitor: This brings increased clarity and increased touch accuracy for the user.
Improved colour temperature: This provides a wider range of colour adjustments and includes the addition of a new natural white tone (closer to natural sunlight colour 5100K). This helps surgeons to distinguish between different tones of tissue colours while performing surgery, which has huge implications for patient safety.
Improved optics offer greater focus: The highly engineered optic element enables an increased depth of illumination and creates a precisely controlled and longer light column. This means surgeons are free to move the light head away from the patient but still benefit from the same quality of light.
Green ambient feature: This provides an enhanced illumination background for the surgeon. Research has shown that the green backlight reduces headaches, light sensitivity and fatigue. It also offers better image quality and less reflection.
Other News
Featured Supplier
Whether you are a patient, family or carer coping with care at home or a healthcare professional involved in skin and wound care, we are here to support you. For over 50 years, Frontier has supported healthcare providers on their mission to improve outcomes, with a portfolio of clinically-proven brands and a dedicated team of specialists.
Upcoming Events
Marshall Arena, Stadium MK, Milton Keynes Stadium Way West Milton Keynes MK1 1ST
30th June - 1st July
Crowne Plaza, Bridge Foot, Stratford-upon-Avon, CV37 6YR
4th - 5th April
Access the latest issue of Clinical Services Journal on your mobile device together with an archive of back issues.
Download the FREE Clinical Services Journal app from your device's App store