New Hygenex® Recoat® Antimicrobial Coating Protects Against Covid-19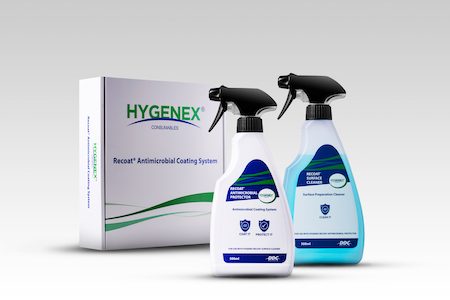 We are pleased to announce the launch of our new Hygenex® Recoat® Antimicrobial Coating System, an easy to use spray on coating which protects surfaces for up to 6 months in a single application.
Proven to be effective against bacteria and viruses including MRSA, E.Coli, and SARS-CoV-2/Covid-19.
Infections allowed to remain on surfaces spread alarmingly quickly. Tests by researchers at Imperial College London showed how viral DNA on a hospital bed rail was spread to 18 other surfaces in 10 hours. These surfaces included door handles, chairs in a waiting room, children's toys and books in a play area.
This is a serious risk because droplet-borne viruses – such as SARS-CoV-2/Covid-19 – can remain infectious on plastic or stainless steel for up to three days. Some bacteria – such as E. Coli and MRSA – can survive there for several months.
The new system works by creating an infection-killing barrier and can be used on a wide range of substrates including stainless steel, aluminium, copper, zinc, chrome, most plastics, glass, ceramics, wood, stickers and foil and can be applied to a variety of touchpoints including door handles and touch screens.
The result is reliable inhibition and elimination of bacteria and viruses, an important consideration for all areas where hygiene is of the utmost importance. Antimicrobial surfaces give you more effective protection against the spread of infection.
DDC Dolphin Marketing Director Zoe Allen said: "A single cough can produce thousands of infectious droplets so regular cleaning and disinfecting of surfaces is critical. However, there is always the fear that an area may not cleaned thoroughly enough – or missed altogether. But the new Hygenex® Recoat® Antimicrobial Coating System provides vital extra protection and reassurance because it continues to kill infections for up to six months between applications."
The Hygenex® Recoat® Antimicrobial System uses silver ions as an active ingredient to help kill infectious viruses and bacteria. Silver has been used to control infections for thousands of years.
Silver's popularity waned with the advent of antibiotics. But antibiotics do not work on viruses – and bacteria are becoming increasingly resistant to them too. So, science is turning once again to silver.
The Hygenex® Recoat® system comprises two spray-on products:
Hygenex Recoat Surface Cleaner – that degreases and cleanse the surfaces in preparation for the application of the Antimicrobial Protector
Hygenex Recoat Antimicrobial Protector – a thin and invisible water-based coating that contains the germ-killing silver ions.
DDC Dolphin have worked closely with the Dutch company Recoat BV, which provides the technology behind this revolutionary antimicrobial agent. Recoat has spent the past 2 years developing this coating technology, which can now play an important role in the fight against Covid-19.
Other News
Featured Supplier


Our prime objective is to provide product solutions and services that fully satisfy our customers' requirements and expectations.
Starkstrom is a British company, founded in 1971, which initially specialised in designing and building control panel equipment. The company has its own UK manufacturing facility and supplies operating room...