Medical trays supplied for UK vaccination programme
WARWICK SASCO is supplying 40,000 medical trays to the NHS for use in the vaccination programme against Coronavirus.
The firm's tray was used during the historic moment that 90-year-old Margaret Keenan received the first vaccination in the UK at University Hospital Coventry and Warwickshire.
Warwick SASCo produces a range of products for use in the medical sector from kidney dishes and gallipots through to instrument trays and instrument protection and transportation units. The company's products also include bed pans and urinal bottles, all of which are made by suppliers in the UK, particularly in the West Midlands. It's not the first time the firm has been part of the fight against COVID-19 having answered a call to supply the Nightingale Hospitals at the start of the crisis. Now its trays are being sent to a distribution hub in Coventry and, from there, will go to vaccination points all over the country.
Managing director, Darby Booth, said: "It was a wonderful moment for everyone to see the first vaccination against COVID-19 being administered here in the UK after such a difficult period. And, of course, it was a very proud moment for us, as a business, to see one of our products being beamed all over the world as it was used in that very first vaccination. We are very pleased to be playing our part."
See more about Warwick SASCo Ltd
Other News
Featured Supplier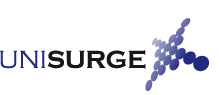 Established in 1988, Unisurge is a trusted manufacturer and supplier of practitioner-specified procedure packs, dressing packs, medical disposable and theatre products to health care professionals. Our range of bespoke single use products is both cost effective and patient specific.