Review uncovers huge gender pay gap in medicine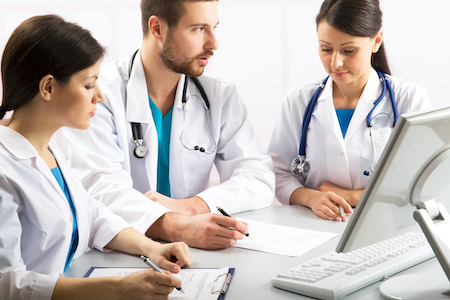 Unequal pay between male and female medical professionals continues to be an enduring problem, according to the latest research.
An independent review, led by Professor Dame Jane Dacre, has highlighted gender pay gaps throughout the medical professions. Commissioned in 2017, by the Right Honourable Jeremy Hunt, the review set out to examine to two primary concerns:
The gender pay gap in medicine, as reported in the national press, was large for a single professional group.
The new NHS contract for Doctors and Dentists in Training had a potentially negative impact on the pay gap due to a loss of increments during maternity leave.
A research team – led by Professor Carol Woodhams from the University of Surrey Business School – was appointed, following a competitive process, to explore many aspects of the gender pay gap in medicine. The researchers found there are gender pay gaps throughout the medical profession. Analysing payroll data reveals basic gender pay gaps of:
24.4% for Hospital and Community Health Service doctors
33.5% for GPs
21.4% for clinical academics
The review attempts to explain the causes:
Hours: Women are more likely to work less than full-time (LTFT), which helps to explain why their pay is lower. Men report working more unpaid overtime, which means that their effective pay is overstated. When these factors are adjusted for, the gender wage gap is smaller.
Grade and experience: Men doctors are more likely to be older, have more experience and hold more senior positions – all of these characteristics lead to higher pay. Periods of LTFT working have long-term implications for women's career and pay trajectories as they reduce their experience and slow down or stall their progress to senior positions.
Additional payments: Among hospital doctors, there are gaps in total pay that include Clinical Excellence Awards (CEAs), allowances and money from additional work – are larger than gaps in basic pay alone.
To minimise pay gaps, the report calls for a review of pay-setting arrangements. Among hospital doctors, this means using fewer scale points and greater use of job evaluation. The aim is to ensure that gaps related to grade are justified. More structure and greater transparency are also recommended in GP pay setting, while decentralised or local practices in pay setting can increase gender pay gaps.
The authors also call for greater attention to the distribution of additional work and extra payments. There should be increased transparency around additional allowances and individually negotiated pay (for example, for locums or waiting list initiatives). An expanded workforce would reduce dependence on these gender-segregated pay elements. Other recommendations included:
Monitoring the gender split of applications for CEAs; change the criteria to recognise excellent work in a broader range of specialties; and encourage more applications from women.
Promote flexible working for both men and women
Advertise all jobs as available for LTFT.
Reconsider the structure of LTFT training, so that it focuses on competency not time served, reducing long-term career penalties.
Commenting on the review, Professor Andrew Goddard, president of the Royal College of Physicians, said: "It is astounding that in this day and age there continues to be such a huge gender pay gap in medicine. I commend my predecessor, Professor Dame Jane Dacre, for being unflinching in her leadership of this review.
"Women are still more likely to work less than full time, but the proportion of men doing so is also growing. What is clear is that the growing number of women in our profession are not being treated equally. They, like all clinicians, deserve to be paid fairly for the work they do – but especially this year, where healthcare staff have been put through the wringer and worked incredibly hard to keep us all as safe and healthy as possible.
"We all need to have confidence in the fairness of the system if we are to retain current doctors and attract new ones. Given the well-established shortage of medical staff, addressing the gender pay gap must be seen as the priority that it is. We look forward to the implementation panel being established quickly and system-wide action as soon as possible that removes the gender pay gap in medicine for good."
Other News
Featured Supplier

Founded in Lübeck in 1889, Dräger has grown into a worldwide, listed enterprise in its fifth generation as a family-run business. Dräger has more than 14,000 employees worldwide and is present in over 190 countries around the globe. The company generated revenues of around 2.6 billion euros in 2018.