Filtration and humidification range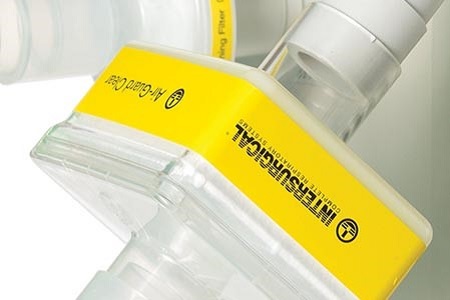 The INTERSURGICAL breathing filter, HME and HMEF range provides an effective barrier that prevents cross contamination between patients, respiratory equipment and the clinical environment.
The company provides a choice of electrostatic and pleated mechanical filters that have been independently tested and proven to be highly efficient, providing trusted protection against bacterial and viral cross contamination. The range of HMEs and HMEFs include foam or corrugated paper in combination with a filter pad to optimise the heat and humidity of inspired gases within anaesthesia, intensive care and home care environments.
The range of respiratory device filters help protect and maintain the equipment used in the care of patients with a chronic respiratory condition. Intersurgical can provide a filtration solution for the majority of CPAP, bilevel devices, oxygen concentrators and suction devices commonly found in clinical use. A new web page provides detailed information on the filtration and humidification products, at: www.intersurgical.co.uk/info/ filtration and humidification
See more about Intersurgical Ltd
Other News
Featured Supplier
Established in 1993 Liverpool, Alphasonics are the premier supplier of Ultrasonic Cleaning Systems which span across a wide and varied range of equipment. With a worldwide reputation for technical excellence, the secret to the Alphasonics success lies within the commitment to innovation in the application of high frequency sound used for cleaning.