Surgeons call for ring-fenced beds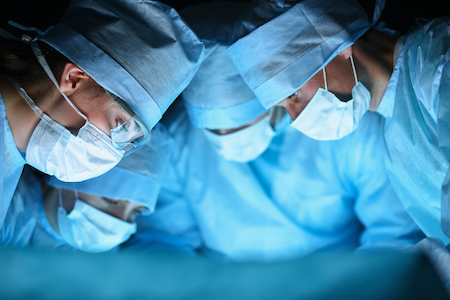 Leading surgeons are calling for hospital beds to be ring-fenced for planned operations, to avoid a 'tsunami of cancellations' during the second wave of COVID-19.
The demand comes as the Royal College of Surgeons of England publish new data showing that the NHS has been unable to meet its target of returning surgery to 80% capacity by the end of September. The service set an objective in July to return to 90% capacity by the end of October, but RCS England's findings show efforts to meet the target falling behind. In a survey of nearly 1,000 surgeons, the College found that:
Only 14% of surgeons can treat the same number of patients in a session, compared to pre-COVID times. Most report that where they might have treated four patients in a session, the number would now be only two or three.
Nearly half (48%) said they need access to more theatres and facilities to avoid surgical "down time" during deep cleaning, with many citing the need for more ring-fenced surgical beds.
Four in ten (39%) respondents in England said that elective activity levels were running at less than 50% of those achieved last year, and nearly half (48%) reported that elective activity levels were between 50% and 80% of those seen in 2019.
Two thirds (65%) of respondents in England did not think it was realistic for their Trust to meet the 80% target. Just a quarter (26%) thought it could be achieved.
Treatment rates are particularly low in trauma and orthopaedics – where operations to repair or replace hips, knees and other joints take place – with three in five (58%) Surgeons said that activity has fallen below 50% of the norm.
Planned surgery for everything from knee operations to replacement heart valves was put on hold in March, to free up NHS capacity for COVID patients. The NHS asked hospitals to start surgery again beginning in mid-June but professionals cite multiple barriers, including a lack of access to fast-testing for patients, a lack of staff, and a lack of critical care beds.
22% are unable to access "COVID-light" hubs, which keep surgical patients safe and separate from COVID patients. Access is a particular problem in Wales, Northern Ireland and the North East.
59% say their Trust or Health Board is not routinely testing asymptomatic staff, to keep COVID off surgical wards
For the first time, more than two million people in England have been waiting longer than 18 weeks, with 83,000 waiting more than a year.
In a new report, Protecting surgery through a second wave, RCS England calls for guaranteed access to fast COVID tests for surgical staff, to keep the virus off surgical wards. In addition they say more ring-fenced "COVID-light" beds are needed, with more nursing staff assigned to surgery, and greater use of the independent sector to expand capacity. 43% of the surgeons surveyed said there was spare capacity in the independent sector which could be used to treat NHS patients more quickly, if appropriate contracts were put in place.
Commenting, Professor Neil Mortensen, President of the Royal College of Surgeons of England said: "Patients waiting for operations cannot be left behind indefinitely by the COVID crisis. Many are in serious pain, with their conditions deteriorating while they are on the list…In addition to protecting surgical wards in the NHS, we need to see more capacity bought in from the independent sector, to help get through the backlog. This is a national crisis requiring a truly national effort across all hospitals – private and NHS alike."
Access the report at: https://www.rcseng.ac.uk/coronavirus/protecting-surgery-through-a-second-wave/
Other News
Featured Supplier

Bender UK is a renowned expert in the field of electrical safety engineering and turnkey operating room solutions.
With an extensive healthcare team in the UK and the Republic of Ireland, Bender UK is experienced in the design, project management, installation, and through life service support of critical hospital systems.
The scope of...
Upcoming Events
Dubai World Trade Centre
24th - 27th January
National Conference Centre, Birmingham
8th - 9th February
Crowne Plaza, Bridge Foot, Stratford-upon-Avon, CV37 6YR
4th - 5th April
Royal College of Physicians, London
11th May 2022
Coventry Building Society Arena
19th May 2022
Coventry Building Society Arena, Phoenix Way, Rowleys Green, Coventry CV6 6GE
28th - 29th June
Access the latest issue of Clinical Services Journal on your mobile device together with an archive of back issues.
Download the FREE Clinical Services Journal app from your device's App store