Special COVID-19 Report Available Now!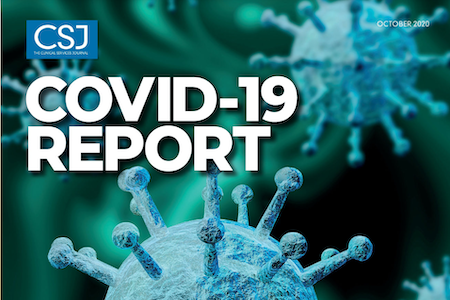 The Joint Biosecurity Centre recently recommended that the COVID-19 alert level should move from level 3 (COVID epidemic is in general circulation) to level 4 (COVID epidemic is in general circulation, transmission is high or rising exponentially).
As cases are starting to rise, once again, the acute sector is preparing for one of the most challenging Winters on record.
With this in mind, The Clinical Services Journal has curated some of the important insights and strategies, published during the pandemic, so far – from strategies for infection prevention and contingency plans for shortages of PPE, to the rapid upscale of medical devices and lessons learned from the Nightingale projects. New findings and discussion on the management of COVID patients, patient monitoring and rehabilitation are also included in this digital collection of features.
The COVID-19 Report aims to provide an easy-to-access, learning resource to assist healthcare workers as they prepare for the months ahead and is the first of a series of reports that will bring together expert views, breaking research and practical solutions.
We hope the COVID-19 Report proves to be a valuable source of information throughout the challenging months ahead.
The COVID-19 Report is now available in our archive and on the app.
Alternatively, read the COVID-19 Report here.
See more about Step Communications Ltd
Other News