Pennine Healthcare launch new UK Face Coverings in fight against COVID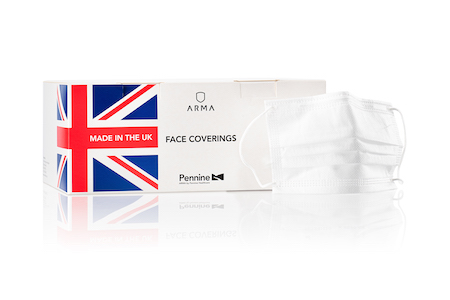 The UK manufactured Face Coverings will be sold on Pennine's e-commerce site, ARMA Health.
Pennine Healthcare, one of the UK's leading privately-owned medical manufacturers, is delighted to announce the launch of their UK manufactured Face Coverings, to help in the fight against COVID-19.
The face coverings, manufactured on-site at Pennine Healthcare, are tested, and approved by BSI under the new face covering Kitemark scheme, and are also certified to AFNOR Spec S76-001. The disposable, single-use coverings are part of a Government backed scheme to ensure the public have access to high quality face coverings. As well as being sold on ARMA Health, Pennine Healthcare will also be supplying both public and private sector buyers.
ARMA Health are also stocking Type IIR Medical Face Masks on the site, with the mask's high bacteria filter and splash resistance capacity giving users peace of mind when outside of their home or in their workplace.
Luke Fryer, Chief Executive Officer, stated: "I'm delighted that we are able to offer, new, UK produced, products to help in the fight against COVID-19. The face coverings are made on-site, here at Pennine, and we're only a handful of businesses able to produce the coverings here in the UK – with specialised machinery now installed in our clean room. We're continuing to add to the ARMA Health online offering and look forward to meeting the demands of new customers."
You can find more about ARMA Health by visiting www.arma-health.com.
Other News