Preparing your A&E Department for winter pressures during COVID-19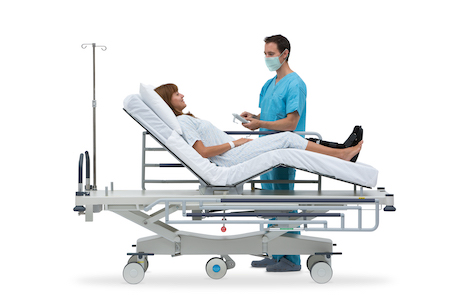 Patient trolley specialist Howard Wright is advising A&E departments how to make best use of the £300 million Government funding given to NHS trusts in England to increase capacity in preparation for a second wave of Covid-19.
In August the Prime Minister announced a list of over one hundred trusts in England that will share a £300m capital fund to support Coronavirus-related upgrades to emergency departments ahead of winter. The funding is to be used to provide more treatment cubicles and expand waiting areas to ease overcrowding and improve patient flow and infection control procedures.
Although the extra funding for A&E departments is welcomed, it is important that it is spent effectively in a way that will really improve the ability of the trusts to cope with a second wave of Coronavirus should it become a reality. Expanding A&E capacity means increasing patient trolley numbers to enable hospitals to treat patients efficiently, whilst also keeping invaluable NHS staff members safe and well so they can continue to perform at their best.
Howard Wright are offering a free demonstration or trial of the number one selling emergency patient trolley in the UK in 2019, the M9 Trauma - currently available with great savings and significantly reduced lead time through the NHS Supply Chain.
The unrivalled low-height capability of the M9 Trauma Patient Trolley (43cm) ensures that patient falls are reduced, transfers for patients are made safer and easier, and the manual handling burden upon nursing staff is minimised. It also boasts a fully electric four-section profiling deck, a pressure reducing mattress, and has been uniquely developed in accordance with EN IEC60601-2-52:2010 - the hospital bed safety standard. This standard ensures the safety of both patients and caregivers, even if the patient is left unattended.
Since the company was founded in 1963, Howard Wright have quietly become a leading specialist in the design, manufacture and distribution of medical beds and trolleys. According to the UK Managing Director, Mark Littleton, this has been achieved by a simple purpose "to make human care easier" and a philosophy of "continuous improvement".
Many trusts and health boards throughout the country are already reaping the benefits of the M9 Trauma Trolley, including University Hospitals Birmingham NHS Foundation Trust (UHB), Epsom and St Helier University Hospitals NHS Trust, Croydon Health Services NHS Trust and University Hospitals of Derby and Burton NHS Foundation Trust.
"The introduction of the Howard Wright Trauma trolleys into our Emergency Department has been a great success, and I would recommend them to other departments. The benefits to our patients and staff in terms of comfort, functionality and versatility is much more improved than our previous units" - Emergency Department General Manager, Queens Hospital Burton
For more information or to request a free trial please contact Howard Wright Ltd on 08450 949 894, email [email protected], or visit www.howardwrightcares.co.uk.
See more about Howard Wright Europe Limited
Other News