UK orders 65 million injection devices from BD for COVID-19 vaccine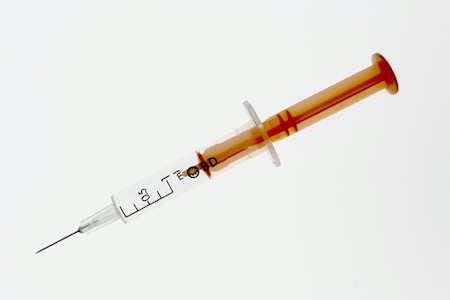 Becton Dickinson (BD) has received an order from the UK government for 65 million needles and syringes to support the country's COVID-19 vaccination efforts.
BD is aiming to deliver the needles and syringes in the UK by mid-September. The first shipments arrived in the UK on 18 June, providing the first element of the government's COVID-19 and Flu and Winter Preparedness programmes.
While many vaccines are delivered in prefilled syringes, the COVID-19 vaccine is likely to come in single or multidose vials, creating the need for separate needles and syringes in order to administer the vaccine to patients.
BD's novel dose-sparing injection technology – the BD™ Flu+ Syringe – has been developed with minimal waste space to maximise the number of people that can be vaccinated. It reduces waste to just 0.0235ml1, and cumulatively, this can have a significant impact on expanding available vaccine doses. For example, in a 50MM-dose single-shot campaign, dose-saving devices like BD™ Flu+ could enable 9.5 million more people to be vaccinated2. Additionally, the savings associated with lower vaccine waste are greater than the total cost of dose-sparing injection devices.
Recognising the need to prepare early, the UK is among the first governments in the world to secure injection devices for the COVID-19 vaccine. "With a 60-year history in vaccine delivery, BD is committed to producing 65 million high-quality vaccine injection devices to support the UK in planning for a COVID-19 vaccination campaign", said Mike Fairbourn, Vice President and General Manager at BD UK & Ireland.
"BD applauds the UK government for its forward-thinking and coordinated approach in planning for future COVID-19 needs. This device selection will help ensure the maximum number of UK citizens get inoculated in the fastest possible timeframe. We thank the government for its partnership, and we look forward to continuing to work with all levels of government in the UK, as we partner together to respond to the COVID-19 pandemic and support the re-setting of the National Health Service as core healthcare work resumes."
BD also recently received orders from the US and Canada for injection devices to support their vaccination campaigns. The company is continuing to advise governments around the world to place orders now, so that when the vaccine is available, they can engage in a mass vaccination programme immediately, and ensure that supply meets demand.
BD UK webpage: www.bd.com/en-uk/
References
1 Data of file at BD. TEST-001664-29, BDMS, 2004.
2 Strauss, K., Vanzundert, A., Frid, A., & Costigliola, V. (2006). Pandemic influenza preparedness: The critical role of the syringe. Vaccine, 24(22), 4874–4882
Other News