Report proves point-of-care scanning improves patient safety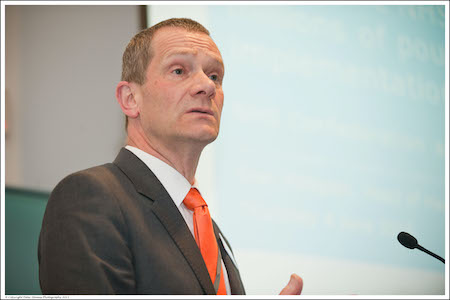 A new report demonstrates that point-of-care scanning in the NHS improves patient safety, releases back clinical time to care and saves the NHS millions of pounds.
Six NHS hospital Trusts which implemented regular point-of-care scanning have ensured complete traceability of healthcare items while securing millions of pounds of savings and releasing thousands of hours of clinical time, a new report reveals.
A scan of the benefits: the Scan4Safety evidence report details the results at hospital Trusts that took part in a national two-year programme, known as Scan4Safety, to investigate the benefits of point-of-care barcode scanning in the NHS.
It shows that the six Scan4Safety demonstrator sites increased efficiency while significantly bolstering patient safety – including by being able to accurately track and share details of which patients have been given which treatments and implants, an ability deemed of crucial importance by the recent Independent Medicines and Medical Device Safety Review led by Baroness Julia Cumberlege.
Among the results across all six Trusts during the two years of the Scan4Safety demonstrator programme:
140,000 hours of clinical time released back to care for patients
Recurrent inventory savings worth nearly £5m
Non-recurrent inventory reductions amounting to £9m
Among the key results at individual organisations are:
By introducing scanning in pharmacy, Royal Cornwall Hospitals NHS Trust reduced prevented error rates by 76 per cent including elimination of all errors caused by wrong patient, wrong drug, wrong dose and wrong form.
By December 2018, University Hospitals of Derby and Burton NHS Foundation Trust had realised cumulative benefits of £3,194,346 thanks to Scan4Safety.
At Leeds Teaching Hospitals NHS Trust, the average time taken to recall a product has fallen from 8.33 days to less than 35 minutes following Scan4Safety.
At North Tees and Hartlepool Hospital NHS Trust scanning a nasogastric tube before inserting in a patient, displays a patient safety alert detailing the potential risks. Once the tube has been placed, the clinician is also required to confirm a pH test has been conducted – this is a key indicator of whether the tube is in the right place and thus helps eliminate the risk of a Never Event.
As the Cumberlege review of medicines and medical devices has recently shown, it has traditionally been difficult to know which product has been used on which patient at which time.
At Scan4Safety Trusts, however, there is full visibility of what care has been given to which patient, when and where. Patients have a barcode on their wristband which is scanned before a procedure. All equipment then used for the procedure – including implantable medical devices – is scanned before use and recorded against that patient.

The location in which a procedure takes place also has a barcode which is scanned and, at some trusts, staff have barcodes on their badges. This makes it possible to know which members of the team were involved in which procedures.

Since items are scanned the minute they go into stock, hospitals with Scan4Safety also have a much clearer picture of what equipment they have available where. This means more informed inventory management, reduced risk of items going out of date, and clinical staff freed from time consuming stock management duties.
Lord David Prior, chair of NHS England, commented: "Barcodes are commonplace in most industries and been around for a long time. It is time they became commonplace in the NHS. They offer traceability, efficiency savings and greater patient safety. We live in a world in which digital technology has already fundamentally changed the banking industry, the retail industry, and many others. It offers a similar opportunity in healthcare. Barcodes are a small but essential part of that revolution. We need to embrace it, now."
Glen Hodgson, head of healthcare at GS1 UK, added: "This report fully details the evidence from the Scan4Safety demonstrator programme. It highlights the improvements made to patient safety and financial efficiency by enabling traceability in a clinical setting through the unambiguous identification of every person, every product, and every place. It provides a compelling case for the implementation of point-of-care scanning across the NHS, particularly as we consider how to learn from the difficult lessons arising from the Cumberlege review."
Other News
Featured Supplier

Medstor makes organising easy. Our comprehensive range of healthcare storage solutions helps your hospital department to function as efficiently as possible, and look good too. Each product has simple, clean, sleek lines that complement the theatre or ward design and offer increased storage capacity, better cost efficiency and infection control.