Advice issued on how to reduce risk of COVID-19 transmission in response to PHE face mask re-use guidance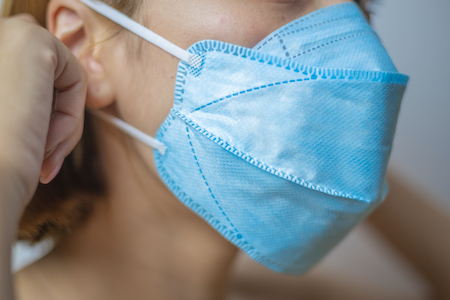 Surgical associations whose members work close to the face have issued further advice for their members in response to Public Health England (PHE) guidance changes that allow re-use of surgical masks.
The associations also stress that patients with non-healing mouth ulcers, or any other indication of oral cancer, should ring NHS 111 for referral to hospital-based oral and maxillofacial surgery (OMFS) departments that are still open for business.
Chair of the British Association of Oral and Maxillofacial Surgeons (BAOMS), Patrick Magennis, commented on the complexity of risk mitigation: "We know that some COVID patients are completely symptom-free, and that speech or coughs can generate transmission of viruses. These are called Aerosol Generating Exposures (AGE). They are lower risk than Aerosol Generating Procedures, but do pose a risk and surgeons must wear a mask. For short exposures, using a disposable surgical mask may have a lower risk than re-using an FFP3 mask."
Paul Coulthard, President of the British Association of Oral Surgeons (BAOS), said: "Until we have a vaccine, proper PPE will play a major role in disease control, so it is crucial we get this as right as we can now – we can't wait for gold standard research evidence."
Both BAOS and BAOMS highlight that masks are just a small component of preventing transmission between patients and clinicians in either direction. All patients must be treated as potentially COVID-positive, and follow the PARA mnemonic of wearing PPE, Avoiding unnecessary exposure/procedures with excellent telephone/video triage, Reducing the number of people exposed during the clinical episode by efficient patient pathways, and Abbreviating the duration of any episode by using the most expert clinicians available; will keep the risks to a minimum.
BAOMS President, Rob Bentley, raised concerns that because of the current COVID crisis reducing access to dentist and doctors patients with mouth cancers are not being referred to OMFS departments: "Patients with mouth ulcers that have not healed after a month would previously have spoken to their dentist or doctor about it and be sent straight in to the OMFS department. The COVID crisis has disrupted this pathway. Some patients with mouth cancer, which can be treated easily by surgery if caught early, might come to harm if treatment is delayed. OMFS departments are still open for business and NHS 111 staff know how to direct people to them."
Full information about the new guidance go to BAOMS www.baoms.org.uk BAOS www.baos.org.uk websites.
Other News