Brandon Medical sources ventilators for NHS Nightingale Hospital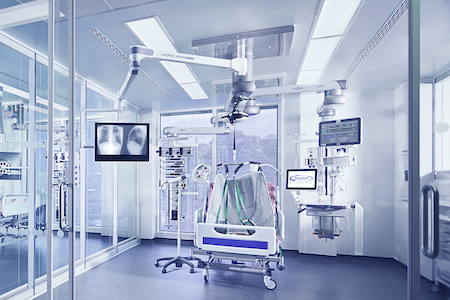 Brandon Medical is a UK manufacturer, supplier, and installer of reliable examination lights suitable for emergency hospitals, minor surgical lighting, intensive care support systems, and other essential medical equipment, 'which may be of great use in quickly scaling ITU and critical care services'.
The medical technology specialist has recently sourced ventilators from British company, Meditech, for the NHS Nightingale Hospital North West in Manchester, and supplied examination lights suitable for tracheotomy to the NHS Louisa Jordan temporary emergency hospital at Glasgow's SEC Centre. It has also offered advice to Leeds Teaching Hospitals NHS Trust and Leeds University on increasing the distribution of oxygen and medical air, and is manufacturing parts for the UK ventilator programme – including for the new Mercedes-UCL CPAP ventilator and existing British-made machines.Brandon Medical's team of engineers is available to help find the equipment healthcare customers need, and to install and service it in hospitals across the UK, observing PHE and WHO COVID-19 guidance. This includes: n Medical lights for intubating patients and tracheotomy.
· Medical gas terminal units for oxygen and medical air pipelines for larger scale distribution.
· ICU and operating theatre pendants.
· Medical point-of-care computers.
· Medical IT systems – unearthed power supplies and uninterruptible power supplies for group 2 locations for ICU and theatres.
· Medical video and information systems that collect data and video streams and distribute them to the desired location.
· Ultraclean ventilation ceilings and clean air systems.
· Operating theatre lights, tables, and touchscreen digital control systems.
Brandon Medical is 'committed to delivering the highest levels of service and supporting healthcare professionals at this very challenging time'.
See more about Brandon Medical Co Ltd
Other News