Expert calls for testing on disinfectants and hand gels in wake of COVID-19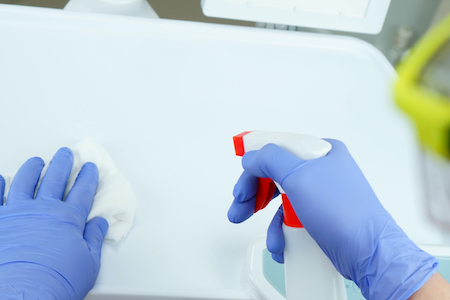 Dr. Andrew Kemp JP PhD, a specialist in disinfection and decontamination, is calling on public bodies to conduct independent testing on disinfectants and hand sanitisers to identify the most effective methods of tackling COVID-19.
"We are in the middle of a Pandemic, yet no one can tell us which disinfectants or hand sanitisers kill COVID-19, so why not? The tests required are relatively quick and simple to do if you have enough viral isolate to test against. The responsibility must lie with organisations such as the WHO, CDC, or Public Health England to do these tests," said Dr. Kemp.
"The WHO have received advice on the tests required for disinfectants and hand sanitisers and, as far as we can tell, to date, they have done nothing with them. The test methodology is due to be published for all to use in April 2020, but without the specific viral isolate to test against, labs cannot produce the results needed and therefore inform the public," he continued.
He argued that that prevention is better than cure: "The simplest and quickest approach would be to identify what is likely to have the most impact on preventing its spread. We know that the spread of this type of virus (we have experienced coronaviruses before) is predominantly droplet, and therefore surfaces and hands play a significant role in cross infection, so why are none of these global and government bodies telling us which sanitisers and disinfectants kill it? They should have done this within 2-3 weeks of the virus being identified," added Dr. Kemp.
He pointed out that some high-profile manufacturers of disinfectants and hand gels have already been asked by the FDA to remove claims on their labelling relating to Coronavirus.
"We should not be relying on marketing departments of companies to tell us what works. Greater effort and resources need to be put into finding out what kills this virus on our hands and on the surfaces around us," he concluded.
Other News