Vanguard showcases new CSSD at Manchester event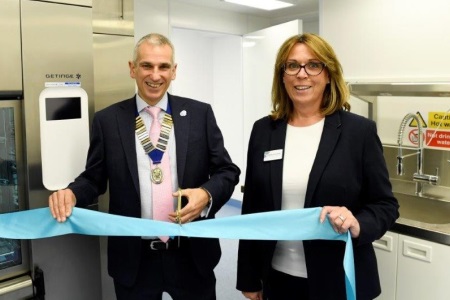 Vanguard Healthcare Solutions says that over the course of the two-day show, over 350 visitors looked around its new mobile Central Sterile Services Department (CSSD) unit at October's Healthcare Estates 2019 event in Manchester.
Visitors included IHEEM's President, Ian Hinitt, guest of honour at a special showcase launch, who, as well as cutting the ceremonial ribbon, spoke about what Vanguard describes as the unit's 'unique qualities'. He said: "It was a pleasure to join the team from Vanguard Healthcare Solutions to help them showcase the latest model joining their expanding fleet of mobile healthcare facilities. This unit is testament to Vanguard's commitment to working with healthcare organisations around the world to meet their temporary infrastructure needs and develop and build the very products which meet their needs."
Vanguard says the mobile CSSD is 'one of the first of its kind', providing a high-specification, temporary facility where all items used in procedures by hospital surgeons and clinical staff can be intensively cleaned and sterilised. The company said: "The new unit offers a mobile CSSD solution which can be used by hospitals during refurbishment projects, or in any circumstances where their own sterilisation services may be out of commission, including emergencies, to provide replacement capacity for the cleaning, sterilising and repackaging of surgical instruments." The unit includes a pre-cleaning station with built-in ultrasonic cleaner, washer-disinfectors and steam sterilisers, a packing area, an independent plant room, an electronic datacentre, staff welfare areas, and HEPA-filtered environmental air.
Lindsay Dransfield, Vanguard's Commercial director, said: "We would like to thank Ian Hinitt for officially launching the new CSSD unit at Healthcare Estates 2019. Our focus is always on providing the facilities that healthcare organisations need to help them deliver the very best in patient care, evolving and changing to meet their developing needs, and this new solution is a prime example of that in practice. We were delighted with the high number of people that took tours of the facility."
Other News