£15 million Health Centre opens in Barrow-in-Furness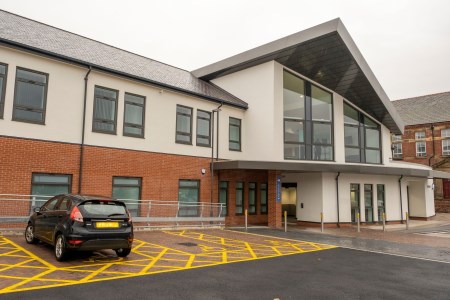 A new £15 million health centre which has seen a GP and primary health care services successfully accommodated in both a refurbished former school and a modern addition opened in Barrow-in-Furness in Cumbria on 11 November.
The site was chosen for its central location, and has successfully blended the refurbishment of the former Alfred Barrow School with a modern addition, meaning that a key local landmark has been preserved, while simultaneously facilitating integrated service provision for the town.
Engagement with the community began in 2013, heralded the start of a development process that took place against a backdrop of difficult economic circumstances and significant structural changes in the NHS, nationally and locally. The 5,000 m2 facility brings together a range of primary and community health services on one site, with the Victorian school building sensitively preserved, retaining original features, and housing much of the office accommodation and staff welfare facilities. It is linked with a modern new-build extension housing patient-facing services and all clinical spaces.
Developed by eLIFT Cumbria (eLC), a public-private partnership involving Community Health Partnerships (CHP) as the public sector partner, the design 'set out to create an innovative workspace which departs from more conventional layouts to help people focus on new ways of working and collaboration'. CHP said: "For example, the design has taken a pragmatic approach to room sizes, recognising the constraints of the listed building and lessons learnt from P22 schemes, incorporating systems to optimise room use and utilising shared reception, waiting, and meeting spaces. Outside, there are a bay for mobile diagnostic facilities, cycle stands, and provision for electric charging points for cars."
The new health centre will co-locate primary, community, and children's health services provided by three relocated General Practices and three Foundation Trusts. The facilities will also operate as a response base for the ambulance service, and provide a community pharmacy.
Mark Day, CHP's COO, said: "We are delighted to have had a key role in delivering this new health centre, which supports the provision of integrated care for the people of Barrow, and provides a first-class working environment for those that care for them. eLC is an innovative company, which has made the very best of a challenging site that the whole town can be proud of."
The centre is the fourth facility developed in Cumbria by eLC to date. All are managed by directly employed, local staff. Tristan Firth, eLC's Development director, is 'particularly proud of this latest scheme'. He said: "Given the economic backdrop, the extensive change within the NHS, and the nature of the site, we knew at the outset that this would be a challenging project. That we've delivered a building in which the whole community can be proud is testament to the collaborative approach taken by all the stakeholders, and the nature of the full service the company has, and is providing."
Other News