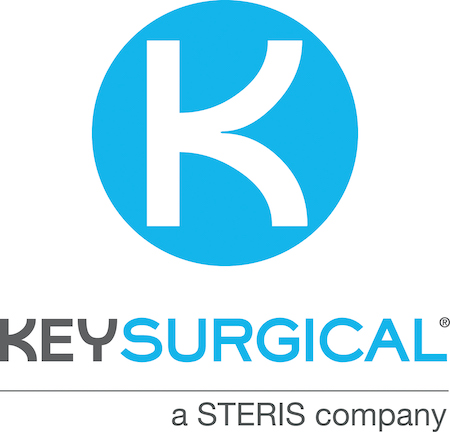 Key Surgical Limited
Beech House
Knaves Beech Business Centre
Davies Way, Loudwater

High Wycombe
United Kingdom
+44 (0) 1628 810626
01628 810760
COMPANY INFORMATION
Founded in 1983, as Clinipak Ltd, we have been a provider of products to support CSSD within hospitals, primarily sterilisation wrap and packaging. In 2019, we renamed and rebranded to Key Surgical Ltd and now operate as such in the UK, providing a much wider and more comprehensive offering of products and solutions for the entire reprocessing cycle in CSSD, the operating theatre, and now endoscopy.
We are dedicated to meeting the healthcare industry's highest quality standards for patient care, safety, and efficiency in hospitals, clinics, and surgical centres around the world. We promise to continue providing a comprehensive selection of products and personalised service you will not find anywhere else.
WHAT IS NEW WITH KEY SURGICAL
We have a wide range of products that spans from our CSSD range supporting you with Sterilisation Packaging, Instrument Cleaning, Sterilisation Trays and much more. As well as this we have solutions for you in your Operating Theatres providing you with the right Surgical Accessories, Sterile Field and Procedure Support needed.
Key Surgical's latest range is our range Endoscopy products which offer a wide range of solutions for your Endo procedure needs. This includes Infection Prevention, Procedure Support, Clinical Products and ERCP Products. We also offer a variety of clinical services to support your team with their Endoscopy needs and learning as well as offering Endoscopy Audits. If you would like to talk more about our range of products speak to one of our team members.
Do you want to be more efficient in your procedures? Our latest product Electro Lube® can help you do this. Electro Lube® is designed to keep tissue sticked to the electro instrument tip, reducing eschar build-up and hand backs. Using our solution can help improve the quality of your electrosurgical procedure and ultimately the reprocessing cycle. To find out more watch our video below.
To see the latest about Key Surgical, see our news here.

PRODUCTS AND SERVICES