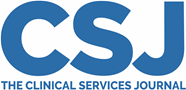 Step Communications Ltd
Step House
North Farm Road

Tunbridge Wells
TN2 3DR
United Kingdom
01892 779999
COMPANY INFORMATION
** Click Images to access archived editions. **
Clinical Services Journal is the leading business magazine distributed to medical professional in clinical healthcare environments throughout the UK.
To ensure that your company has an effective, current, extensive, dynamic, professional, comprehensive, direct, profile with the key decision makers responsible for over £15 billion annual budget spend, contact us today!!To find out more information about the magazine.
Target audience: Healthcare professionals who are responsible for the delivery of patient services in the UK
High value, authoritative feature articles – on an extensive range of subjects directly relating to patient treatment and care – are the hallmark of The Clinical Services Journal
Published ten times a year and widely respected, The Clinical Services Journal presents readers with detailed information on how new technology and working methods are making a real difference to healthcare delivery. The way forward is regularly explored by correspondents whose expert analysis is complemented by thorough coverage of important news. Product and service developments are highlighted.
Never has the need been greater for updates on best practice in areas such as perioperative care, radiology, infection control, and surgical instrument decontamination. The Clinical Services Journal clearly and concisely provides the facts, drawing attention to the changing roles and responsibilities of healthcare personnel.
https://www.clinicalservicesjournal.com
(YouTube Video Example)
PRODUCTS AND SERVICES