Dr. Weigert UK Ltd
Newmarket Suite 17 - 19
Keys Business Village
Keys Park Road

Cannock
WS12 2HA
United Kingdom
+44 (0)1543 404 633
COMPANY INFORMATION
The technological advances of the 20th century have enabled automated cleaning and disinfection methods in trade and industry. Dr. Weigert has accompanied this process from the start. Our innovative products and concepts have always been the standard for first-class results.
As a medium-sized company Dr. Weigert has accompanied the process of technical progress in automated cleaning and disinfection methods from the beginning and has been leading in the development of professional system solutions when cleaning and disinfecting in laboratories, in the medical area, in professional kitchens as well as in the pharmaceutical, cosmetics and food industry.
Hygiene in Medical Technology – Perfect Instrument Reprocessing
No other sector is as sensitive to hygiene matters as the medical sector. And this is the field in which Dr. Weigert is most committed to setting global standards for top hygiene.
In conjunction with partners from the industry, automated reprocessing processes for medical instruments and equipment have been developed and constantly perfected.
It is no coincidence that Dr. Weigert has been the market leader for several decades when it comes to innovative treatment and application processes that are simple, safe and economical while preserving materials and thus retaining value.
Solutions for Hygiene Safety
The basis for successful disinfection is optimum cleaning. This applies to the reprocessing of all medical devices – including flexible endoscopes, MIS and micro-surgical instruments as well as anaesthetic equipment. Decades of experience in reprocessing medical devices enable Dr. Weigert to develop and refine process chemicals for cleaning and disinfection to perfection.
Because of their special constructional features flexible endoscopes and endoscopic accessories belong to the medical devices with increased demands concerning reprocessing. Lack of hygiene during reprocessing represents infection risks for patients and personnel. Safe endoscope reprocessing with a maximum quality standard reduces the risk of germ transmission to a minimum.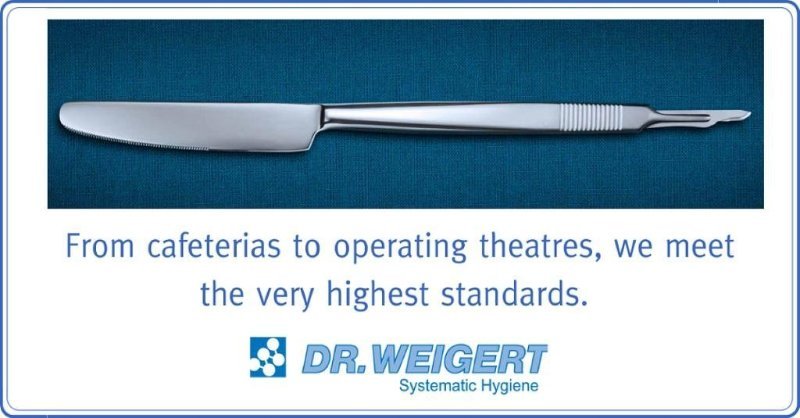 The Neodisher Endo Programme for Highest Demands
neodisher concepts and products guarantee first class results and the longevity of high-quality materials. Here you will find the neodisher product perfectly suited for every purpose and for every material.
The neodisher endo products have been especially designed for these sensitive materials and ensure long durability and a safe reprocessing of endoscopes as well.
"The important thing is not what we can produce, but the advantage our customers can derive from it."
The company's founder, Dr. Walter Weigert
PRODUCTS AND SERVICES