Are you looking to reduce single-use plastics in your surface disinfection protocol? Tristel suggest that Trusts can start by eliminating pre-wetted plastic wipes.
Right now, in hospitals around the world, staff are wiping down surfaces with detergents and disinfectants. Daily infection control measures like surface wiping are essential to maintain a safe environment for patients and staff. Procurement figures show the National Health Service (NHS) bought over 4 ½ million surface wipes in one year, pre-pandemic. To put that figure into perspective, it equals 400 tonnes of wipes.
Fast forward to March 2020, and every detergent and disinfectant pre-wetted wipe product sold by the NHS Supply Chain hub went out of stock.
Why are so many pre-wetted wipes used in the NHS?
Pre-wetted wipes are the most commonly used product for the NHS's disinfection requirements and are typically made of and packaged in single-use plastic. The design ensures detergent or disinfectant solution is effectively carried from point of manufacture to point of use without any degradation of the wipe, the chemical, or their combined ability to kill microorganisms. The big problem is that when you use a pack or tub of pre-wetted plastic wipes for disinfecting surfaces, your impact on the environment is decided for you. After each single use, you throw the plastic wipe away.
What can be done to remove single-use pre-wetted plastic wipes?
Single-use pre-wetted plastic wipes are vital for many medical areas and devices to ensure effective decontamination and avoid outbreaks. However, they can and should be eliminated for surface disinfection, without impacting the efficacy of your hospital's disinfection protocol.
Tristel achieves this by separating powerful chlorine dioxide (ClO2) chemistry from the wipe until point of use. Thanks to EN 16615 compliance, hospitals can use their choice of wipe, enabling them to create the most cost-effective and eco-friendly sporicidal wipes on the go.
Small capsule, big impact
One TANK ClO2 Sporicidal Disinfectant capsule makes 10 litres of solution, which can be applied on the go with a Doser, Foamer or Spayer. You only need 1 pallet of TANK capsules instead of 150 pallets and 6 lorries to produce the equivalent of 2 million peracetic acid (PAA) sporicidal wipes.
Use any eco-friendly wipe for sporicidal efficacy
Thanks to EN 16615 standard wipe compliance, you can pair TANK ClO2 Sporicidal Disinfectant with any spreader. Choose a microfibre cloth or more environmentally friendly dry wipe, without sacrificing EN 17126-compliant sporicidal efficacy.
Sporicidal efficacy is the highest level of disinfection for surfaces and can only be claimed by showing EN 17126 compliance. When chemistry has proven sporicidal efficacy, it provides the highest level of protection. Sporicidal chemistry not only helps to guard against existing pathogens but can shield against new, emerging pathogens too.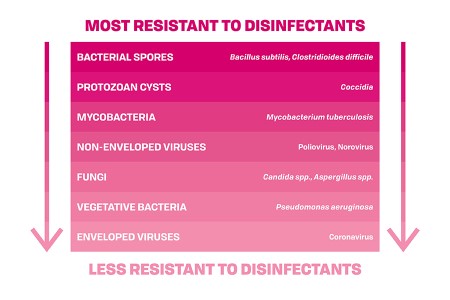 TANK ClO2 Sporicidal Disinfectant is also mycobactericidal, virucidal, yeasticidal and fungicidal. TANK protects your patients against Clostridioides difficile and a multitude of other infection risks.
TANK is part of Cache, an eco-conscious collection of surface disinfection products that ensures you can curb the disposal of single-use throw-away plastic wipes. The Cache Collection is designed with sustainability woven throughout the product range, from reusable trigger heads that are built to last right through to recyclable bottles and capsules. You can create a complete and sustainable cleaning and disinfection protocol for your hospital.
Sign up to TrIstel's network of 7,000+ medical professionals for the latest product news and breaking science.