NHS Orkney leads the way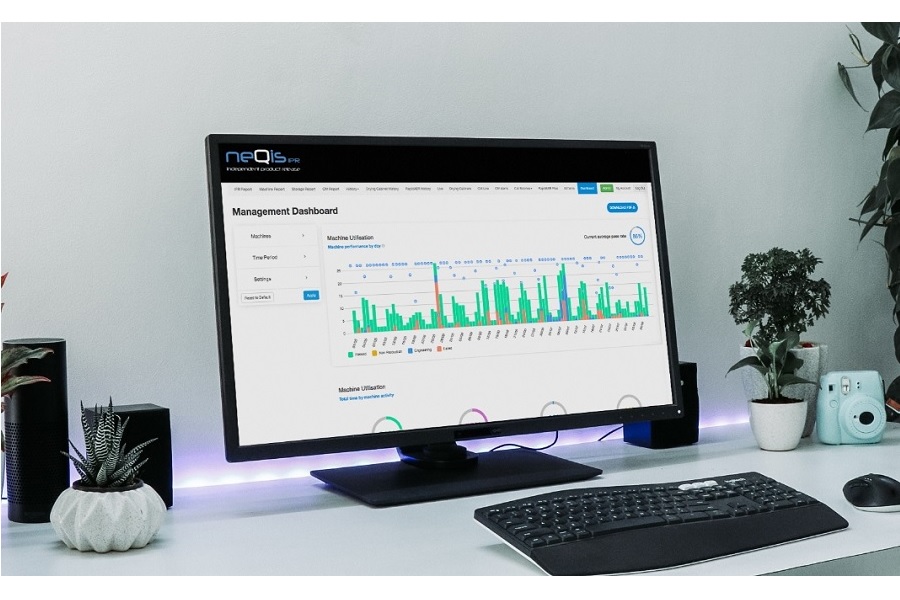 NHS Orkney has extended its use of neQis independent monitoring solutions, adding continuous particle monitoring for the clean room of its central decontamination unit. Now all the department's key parameters are continuously monitored using neQis solutions - independent product release, pressure, temperature, humidity, rinse water conductivity, RO system and, most recently, cleanroom particle counters.
Gary Drever, central decontamination unit man- ager at NHS Orkney's The Balfour Hospital, Forelands Road, Kirkwall, Orkney, says: "While NHS Orkney were in the process of drawing up plans for our new hospital and healthcare facility, we came across neQis during a visit to Golden Jubilee Hospital, in Glasgow. At the time, the independent monitoring system (IMS) installed on the washer-disinfectors and autoclaves at our old hospital was no longer being supported. We needed something to see us through until the new hospital and healthcare facility opened and installed neQis to keep the system going while this was built.
"NHS Orkney have a Health Edge track and trace system. On the installation of the neQis IMS, NHS Orkney worked with Health Edge and neQis to interlink the systems so that the neQis IMS gave us a 'pass' or 'fail'. As with any new system, we had a few teething problems that Health Edge
were able to resolve with the central decontamination department (CDU). It gave us the reassurance that an operator cannot knowing unload a failed cycle. The system checks that the cycle numbers match. It's all running smoothly, and the team are happy with the system.
"It was so successful that when we went out to tender for the CDU in the new hospital, we specified that the washer-disinfectors, autoclaves and endoscope washer-disinfectors were compatible with neQis."
However, the team was so impressed with neQis that even before the move from the old hospital, its use was expanded further with the addition of pressure monitoring. "We were only due to be in the old hospital about a year, so we added the bare minimum," explains Gary. "SHBN 13 (Scottish Health Building Note) defines what room pressure should be. Being a relatively old guide, it specifies Magnehelic gauges which must be re-calibrated every year. We decided on all electronic gauges using neQis.
"I think that at the time we were the first CDU in Scotland to use neQis for pressure monitoring within rooms. The system measured the pressure in gowning room to clean room, gowning room to corridor and wash area to clean room. In all, the neQis system was used for about 18 months in the old hospital.
"Once we saw the success of the neQis system, NHS Orkney agreed that when the new hospital and healthcare facility was built NHS Orkney would use neQis for all environmental monitoring for the CDU - temperature and humidity, and pressure monitoring in all the rooms surrounding the clean room," says Gary. "We were the first new build CDU in Scotland for eight or nine years and went for Best Practice specifying neQis as standard. We've taken it to the 'nth' degree."
Gary says: "neQis is a cloud-based system, so it's relatively easy to expand its use. I can view all the parameters on a dashboard on a PC, tablet or mobile phone from any location, which will show all the details and trends.
"Since moving into the new CDU, we've added temperature monitoring in chemical stores and temperature and humidity monitoring in the clean room and material store. A peracetic acid (PAA) vapour monitoring system was added to the endoscope wash area. This alarms to alert staff working in the area if the levels of peracetic acid are too high and to leave the area until it returns to normal.
This is achieved using the neQis wireless PAA system, which is linked to the cloud-based system and can be viewed anywhere."
Current weekly tests on a washer-disinfector require that a test on the conductivity on the incoming water is carried out. As Gary explains: "Due to an issue with one of the washer-disinfectors having high conductivity on the rinse water, it was decided to monitor the conductivity of incoming. neQis were asked if it was something they could do.
They had a solution, so again we added it to the system, using a spare port on the data logger. Now we're continuously monitoring the conductivity on water coming into the washer-disinfectors in sterile services, so an engineer verifies the conductivity on a monthly basis."
Gary adds: "As there was no formal recording with the RO (reverse osmosis) plant on the thermal disinfection at night. It was decided to install temperature monitoring on the flow and return on the RO plant. Using neQis gave us the reassurance that it was happening, so that we could programme time the endoscope washer-disinfectors to do their own thermal disinfection cycle."
The move to add continuous particle counting in the clean room came at the request of Health Facilities Scotland (HFS). This followed an issue in a clean room at another hospital, which had to be rectified then samples taken for laboratory testing to show that it was within guidelines. To avoid the protracted time- scale and reduce the possibility of cleanrooms operating while out of guidelines, HFS wished to consider the merits of continuous particle counting.
It was felt that this would immediately highlight any issues and, once any necessary remedial action had been taken, provide a quick reassurance that perfor- mance was back within guidelines. Continuous particle monitoring might also lead to energy savings; for example, showing when it might be possible to turn down fans.
Knowing the comprehensive nature of the NHS Orkney system, HFS discussed the issue with neQis, who quickly set about developing a solution and locating a supplier for the particle counter hardware.
"Our AE(D) (Authorised person - decontamination) put us forward as we're probably the most advanced hospital site in Scotland," explains Gary. "At the time, in common with other hospitals, we were doing six-monthly counts with contact and settle plates. The installation didn't take long. We had to fit two units onto the wall in the packing room and add some data points for the connectivity into the cloud network and electrical plug points. It took Rob Willington, neQis's technical services manager, an hour to set up the system and to do some other neQis work, which could have been done remotely.
"The continuous particle count is brilliant. It's that sensitive, you can tell when someone enters the clean room and when they leave. We've always been within limits."
Widely used in UK hospitals, neQis is currently supporting over 220 sites, monitoring 1,154 machines, averaging 28,000 cycles per week and has an archive of over 4.2 million cycles to date.
All the neQis systems' archived data is quickly available on an integrated management dashboard. Historical information is easy to find as the inter- face is simple to use, with clear search facilities.
These have links to trended chart data, while insights into all activity over the previous 24 hours are quickly available, with an option to view as far back as the very first cycles logged. The dash- board enables the creation of production reports showing machine performance criteria.
Users enjoy peace of mind as the neQis system is hosted on the Microsoft Azure cloud-computing platform which gives security, integrity, limitless storage and scalable resources. Azure allows neQis to use the optimum and fastest systems available.
Gary explains: "Our system is a complete single- point overview of our whole unit from one screen. I can see what stage of a cycle each machine is at - washer-disinfectors, autoclaves and endoscope washer-disinfectors. Plus, the temperature in the store room, pressure in just about every room in the unit and, of course, the particle count in the clean room.
"I can monitor the system here and HFS can do the same in Edinburgh and Glasgow. This is the future. I think continuous particle monitoring will become a new standard and it will be possible to actively environmentally monitor every new build from anywhere."
Impressed with the success which neQis has delivered, the hospital's infection prevention and control team has installed pressure monitoring in the high dependency unit's
isolation rooms. While, after learning of the success in CDU, the renal team has fitted its RO plant with monitoring for thermal disinfection.
Describing the development of the continuous particle counting solution, Rob Willington, neQis's technical services manager, says: "It all happened at the height of the pandemic through Teams meetings with HFS and NHS Orkney.
Particle counting was new to us. We'd never built anything to do that job.
"We found some hardware that would be com- patible with how our system works. If it goes out of spec, the system will send an email to anyone who's logged on. They have a very good clean- room at Kirkwall.
"neQis was originally fitted into the CDU's washer-disinfectors, sterilisers and endoscope reprocessors for independent monitoring, for independent product release. At the time, hospi- tals were generally wanting neQis for compliance.
Rob says: "The system is now cloud-based software, offering dashboards with analytics, which show 'pass' and 'fail' and KPIs. Plus, integration with track and trace and compatibility with every manufacturers' machine. We now have hospitals on board for those benefits, rather than just because of product release.
"Other hospitals have installed pressure monitoring and various additional monitoring features. I believe that some are also considering adding continuous particle counting."
Reflecting on the success of the partnership, Gary adds: "neQis is a very good company to work with. My main contact is Rob. If there's no answer when I call, they will ring back within five minutes and any messages are answered within 15 minutes. They always reply very quickly. We've even replaced the odd part or two with their telephone support.
"Rob does a yearly service on the neQis system. If there are any issues that require attention, he usually works out of hours, so as not to cause any disruption to the department. They're so good to work with. Nothing's a hassle or a problem. I wouldn't be afraid to recommend neQis to anyone."
For further information on neQis independent monitoring and data integrity solutions, please visit www.neqis.co.uk
Other News
Featured Supplier

For over 40 years Alpha Laboratories has been providing quality supply and support to UK and international scientists for their diagnostic and laboratory product needs. The company remains today, as always, a family run business with the same vision and ethos.
Upcoming Events
ICC, Birmingham
20th – 23rd June 2022
Coventry Building Society Arena, Phoenix Way, Rowleys Green, Coventry CV6 6GE
28th - 29th June
Edgbaston Stadium, Birmingham
27-28 September 2022
Bournemouth
17-19 October 2022
Pendulum Hotel and Manchester Conference Centre, Manchester
3rd November 2022
Dusseldorf Germany
14th November - 17th November
Access the latest issue of Clinical Services Journal on your mobile device together with an archive of back issues.
Download the FREE Clinical Services Journal app from your device's App store