New high tech system has cancer in its sights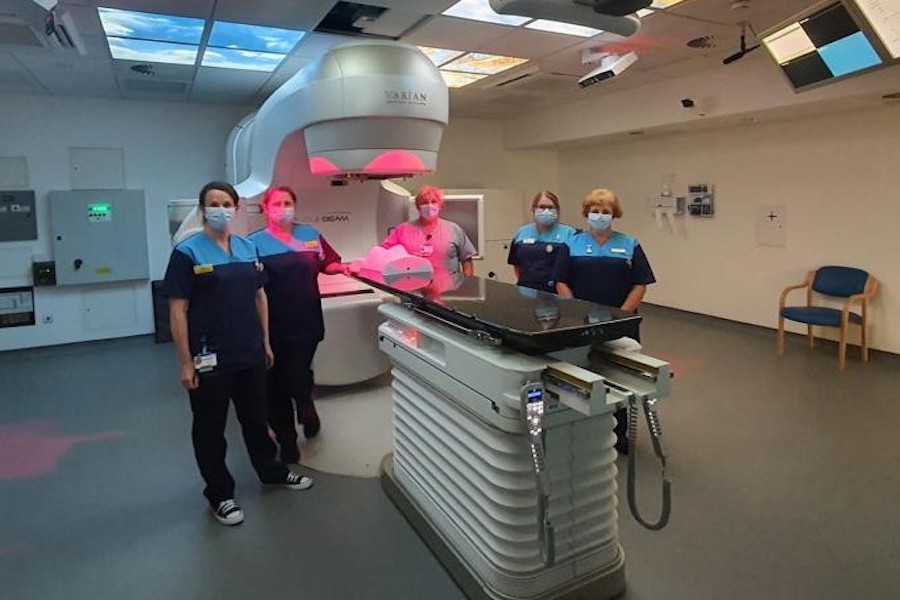 Cancer patients are benefiting from ultra-precise cancer treatments thanks to a new state-of-the-art system that provides clinicians with a 3D body 'map'.
University Hospitals Dorset's radiotherapy teams' two new surface-guided radiotherapy treatment systems are among only a handful available in the NHS and the first in the south west. They use special cameras to detail the contours of a patient's skin to allow more precisely-targeted treatment during radiotherapy.
Radiotherapy is a procedure in which a beam of radiation is aimed at a tumour to kill it. As it can damage non-cancerous cells, the procedure involves complex planning to ensure the right dose is delivered at the exact site it is needed. A small tattoo is typically used to denote the target site, which can remain visible after treatment and can carry its own psychological impact, which this technology will put an end to.
The high tech cameras create a skin 'map' in real time, and combined with detailed treatment planning scans previously taken, a target site is 'locked' so that if a patient – and their tumour – moves, it turns off the beam. The monitoring system is so sophisticated that it can detect movement of a fraction of a single millimetre. The systems are being initially used to target the pelvic region, including rectal and gynaecological cancers, as well as breast cancer, before being rolled out to all cancers.
Two surface-guided systems are now in use, with a further two joining them shortly, at Poole Hospital and The Robert White Centre, at Dorset County Hospital, in Dorchester. The centre is named after multi-millionaire businessman Robert White, who gifted Poole Hospital more than £10m to advance cancer treatment in the county before his death in 2015. The Robert White Legacy Fund, a charity set up to allocate Robert's incredible legacy to appropriate projects, gave £900,000 to purchase the four systems.
"When we're planning radiotherapy treatment, we spend many hours optimising each patient's treatment plan to achieve the correct dose of radiation to the tumour," said John Naylor, radiotherapy physicist at University Hospitals Dorset.
"All those calculations and precise planning rely on a patient remaining extremely still during the process, at the point they are receiving their radiotherapy. This is why you will see in use what can be very extensive shells, or masks, covering the whole head and neck, for example, to try to limit a patient's ability to move."
The new technology will mean patients having to use these highly restrictive 'closed' masks and shells less and less, making it a more pleasant experience.
"This technology means we're more confident that we can deliver the treatment plan more precisely," added Josh. "It will also eventually remove the need for a physical tattoo. Some patients, when we follow up with them, say that these marks are an unwelcome reminder of a difficult period in their lives and continues to cause them great stress, sometimes years after treatment and especially where it may be visible to others.
"Surface-guided radiotherapy is an incredible step forward for us, and I'm delighted that not only are we one of a handful of NHS radiotherapy services using this technology today in the UK, but that it has been made possible by Robert White and the incredible Robert White Legacy Fund to further cancer care in the county."
Other News
Featured Supplier

For over 40 years Alpha Laboratories has been providing quality supply and support to UK and international scientists for their diagnostic and laboratory product needs. The company remains today, as always, a family run business with the same vision and ethos.
Upcoming Events
ICC, Birmingham
20th – 23rd June 2022
Coventry Building Society Arena, Phoenix Way, Rowleys Green, Coventry CV6 6GE
28th - 29th June
Edgbaston Stadium, Birmingham
27-28 September 2022
Bournemouth
17-19 October 2022
Pendulum Hotel and Manchester Conference Centre, Manchester
3rd November 2022
Dusseldorf Germany
14th November - 17th November
Access the latest issue of Clinical Services Journal on your mobile device together with an archive of back issues.
Download the FREE Clinical Services Journal app from your device's App store