EcoClenz Alcohol Free Disinfectant Range – Protects against COVID-19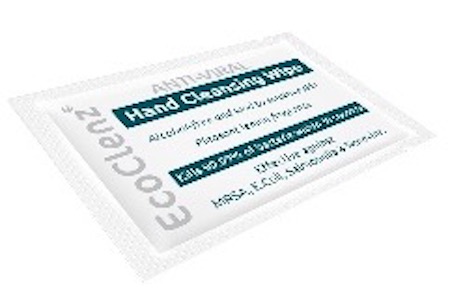 EcoTech (Europe) Limited have been manufacturing Hygiene & Disinfectant products from its Coventry factory and headquarters since 1997.
This last 12 months have been very challenging times for ALL of us, as this global pandemic Corona Virus (COVID-19) has taken hold.
This range is not new to us as we have been producing disinfectant products here in the UK since we opened our doors 24 years ago.
What has become evident over this period of time is the amount of disinfectant products that have emerged onto the market and quite a few without the independent tests that take many months and sometimes years to be carried out, ensuring the product is truly fit for purpose and gaining recognition for the same giving the confidence that the product actually does what it says on the label.
The EcoTech "EcoClenz" family of alcohol free disinfectant wipes, Gels & Surface Disinfectant Sprays are fully tried and tested to conform with European standards and have also been tested by the UKAS accredited laboratories in addition to the NHS testing laboratories for the NHS's own use. Just some of the Key European tests that we have had carried out on EcoClenz are as follows and of course all test certificates are available to support these claims.
BS EN1276
BS EN 14476: 2013 + A2: 2019
BS EN 13727
BS E 3058-16 – up to 8 hours efficacy on hands
BSS 7434
It is so important that Care Home owners and their managers have the confidence that the products they are using within their establishments are absolutely fit for purpose and are giving the very best protection to both care teams, residents and visitors in that the EcoClenz range not only kills enveloped viruses (Covid-19) but also the areas that have been cleaned/ disinfected have a good residual efficacy. This means that wiped surfaces using EcoClenz remain effective for up to 30 days on these surfaces, this being so important for those areas in the home that may not have a regular clean down. Please see below just some of the Virus that EcoClenz is tested effective against.
Information for efficacy against tested viruses – EN 14476 2013 + A2 2019 Annex A
Poxviridae
Herpesviridae
Filoviridae (e.g Ebola, Marburg)
Flavivirus
Hepatitis C Virus (HCV)
Hepatitis Delta Viirus (HDV)
Influenza Virus
Paramyxoviridae
Rubella Virus
Measles Virus
Rabies Virus
CoronaVirus (e.g SARS, MERS)
Human Immunodeficiency Virus (HIV)
Human T Cell Leukemia Virus (HTLV)
Hepatitus B Virus (HBV)
EcoTech manufacture a wide range of Hygiene related wet wipes and cleaning cloths all of which form a very important part of a daily cleaning and disinfecting regime. During this pandemic it was essential that EcoTech were able to respond in a proactive way by selecting a core range of products from its very extensive portfolio that would help combat this very contagious virus, which is now known to be mutating into various other strains. Prevention is better than cure every time. Albeit the program for vaccination is well underway and this by no means is the only answer to combatting this virus it needs to be targeted from both ends.
It is so important in closed confined areas such as care homes that both staff and residents have the best level of protection that can be provided and this is why in addition to our disinfectant range of products EcoTech also are able to supply from stock an almost one stop shop to include a 3 ply FFP Type 1 face mask which we have had tested here in the UK to BSEN14683:2019 a medical standard. So many masks in use in the UK today only have EN149 testing and some of these have been found to be questionable, it is all about particle filtration and not how trendy it looks.
EcoTech Symsave 3 ply disposable face masks have been tested for Bacterial Filtration Efficacy & Differential pressure as per EN14683 and Microbial Cleanliness as per ISO 11737-1:2018 and as per EN14683 requirements. The mask performed as below:
Bacterial filtration efficacy >95%
Differential pressure <40 pascals(Pa/cm2
Microbial cleanliness < 30 (cfu/g)
EcoTech Symsave 3-ply commercial disposable face masks fulfils the performance requirements criteria for a type 1 Medical Face Mask as per EN14683
We have been through quite a few pandemics over the years but nothing quite like Covid-19 and what this has now created is true awareness of "hygiene" something we have been promoting for many years. Even when life eventually gets back to some normality the new perception on cleaning and disinfecting is here to stay so it is so important that the correct products are used for the various applications.
With over 90% of our products being manufactured at our Coventry facility which are all under one roof of just under 100,000 sq ft. Orders can be placed via our website www.ecotech-europe.com for just in time quantities and additionally for larger mixed quantities are available from our National network of distributors. If you would prefer to keep your supply with an existing distributor I am sure our products can be made available via this route if not already listed. If you are unsure about supply we have a very helpful office sales team who are on hand to offer product information and advice for the best options to purchase our products.
Should you need technical data, test reports these are all available on request and all our products have QR labels which will take you directly to MSDS for that product from the product label.
QUALITY DOES NOT HAPPEN BY CHANCE.
Telephone 02476 471894
Email: [email protected]
Web ordering: www.ecotech-europe.com
See more about EcoTech Europe Ltd
Other News
Featured Supplier
Here at Hupfer, we always aim to provide useful and innovative products to our customers in order to help them work more efficiently and safely day to day. Our products are created with our customers in mind and as a result, we've become leaders in developing and producing storage and handling solutions for the medical industry.
Upcoming Events
Marshall Arena, Stadium MK, Milton Keynes Stadium Way West Milton Keynes MK1 1ST
30th June - 1st July
Crowne Plaza, Bridge Foot, Stratford-upon-Avon, CV37 6YR
4th - 5th April
Access the latest issue of Clinical Services Journal on your mobile device together with an archive of back issues.
Download the FREE Clinical Services Journal app from your device's App store