CSJ January Issue Out Now!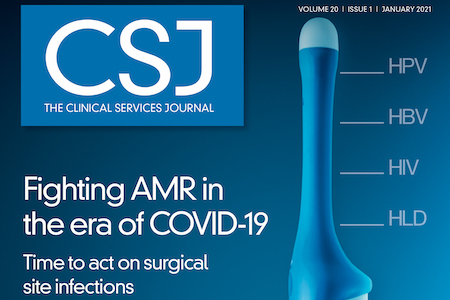 The Clinical Services Journal January 2021 issue has landed on desks and is now available via our website and the app!
To view the issue, simply register to the website here. Once logged in, click the archive tab where you will find our Infection. Prevention Supplement, along with all of our previous issues and supplements going all the way back to 2012.
This month's issue is packed with topical features, including:
Lessons learned from the 'first wave'
Fighting AMR in the era of COVID-19
Rehabilitation challenges for long COVID sufferers
Clinical guide for low temperature sterilisation
Advancing proton beam therapy treatment
Care and compassion: primary needs for staff
Tackling infection risks: advanced ultrasonics
Managing cultural change in a crisis
Time to act on surgical site infections
Minimising airflow turbulence in the OR
Tackling the risk of airborne infection
Digital copies of the Clinical Services Journal and its sister title, Pathology in Practice can also be downloaded via the App store and on Google Play, by clicking on the following links:
See more about Step Communications Ltd
Other News
Featured Supplier
Here at Hupfer, we always aim to provide useful and innovative products to our customers in order to help them work more efficiently and safely day to day. Our products are created with our customers in mind and as a result, we've become leaders in developing and producing storage and handling solutions for the medical industry.