Clinical engagement in digital is number one priority for Trust chiefs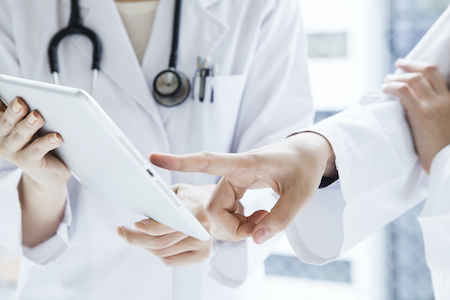 A major survey of NHS IT chiefs has revealed that ensuring those at the frontline are engaged with technology is now their number one priority.
The Digital Health Intelligence NHS IT Leadership Survey which offers a 'state of the nation' insight into the priorities, concerns and challenges faced by NHS chief clinical information officers (CCIO's), Chief Information Officer's (CIOs) and other relevant digital health leaders said that 78% of respondents feel this is most important, ahead of interoperability, which has been the top priority for the past five years.
In addition to the significant focus on getting clinical health and care professionals onboard with technology, it also revealed that despite record levels of positivity for digital transformation; 83% of respondents said the pandemic had resulted in a more positive attitude to digital among board members, up on 63% the previous year; just 24% are expecting a significant rise in funding and 14% think budgets will decrease.
NHS Providers deputy chief executive, Saffron Cordery said: "We know the pandemic has galvanised the NHS into adopting new digital technologies. Many Trusts are now reappraising their digital strategies in order to pursue a more ambitious digital agenda. But in order to do this, the sector must be supported with appropriate access to funding – both capital and revenue – in order to invest in new digital capabilities, both in terms of new technologies but also digital teams.
"We welcomed the spending review which saw an extra £3bn for NHS budgets. This is a good start, but this funding is prioritised for tackling backlogs in planned care and alleviating pressures in mental health services. If we are to sustain momentum on the digital agenda, Trusts must be supported to back their digital ambitions too."
Lisa Emery, Chief Information Officer at The Royal Marsden NHS Foundation Trust, said her Trust is supportive of digital transformation but she acknowledged that funding will be a challenge for many. "Like all Trusts, we are managing patient activity issues and funding challenges.
"COVID-19 has made it clear that we can't deliver quality services without digital and the right infrastructure. It is a false economy if we deploy all this fantastic new technology to support remote working for our staff and remote patient care and we don't invest in the basics to ensure they work. If we don't improve the networks and make sure everyone has up-to-date devices and secure working, it will continue to be challenging for our staff and patients. It would be so self-defeating."
In a plea to NHS boards across the country to continue to support digital transformation, she said: "IT funding has often been the poor cousin in terms of funding, but if not now then when?"
A lack of "buy-in" at NHS board-level has long been reported as a reason for the faltering transformation in digital, and so the changes in attitudes at this senior level will be seen as a real opportunity for digital health leaders to drive the change agenda.
While the pandemic accelerated remote working and remote patient care within the NHS, 85% of respondents said their organisation now offered online video consultation with healthcare professionals; up from 25% last year. Core challenges, such as the development of electronic patient records (EPR), the ability to share records across partner organisations and interoperability of IT systems, remain unchanged.
Mandy Griffin, Chief Information Officer at Calderdale and Huddersfield NHS Foundation Trust, said: "COVID-19 has allowed us to very rapidly fund remote and agile working and we have seen great benefits but the investment is on a smaller scale. The larger challenges of making significant technology change, such as EPR deployment takes several years of planning and costs can run into millions.
"We are fortunate at our Trust that we have a good level of digital maturity and we have an EPR in place. I fear for those Trusts that are not in this position."
Jon Hoeksma, Chief Executive of Digital Health Intelligence, added: "NHS organisations have responded fantastically to the crisis with some citing that they have made four years of digital progress in just four weeks.
"We have seen dramatic acceleration in access to widespread remote working and to some digital patient services; 85% of respondents said their organisation now offered online video consultation with healthcare professionals; up from 25% last year.
"But reality remains that acceleration of progress has been confined to very specific areas. There is still very limited confidence that healthcare IT budgets are sufficient to cover business priorities, something which has remained remarkably stubborn in the five years we have run this survey. The financial pressures that exist at trust level must be addressed to maintain momentum on digital transformation."
Other News
Featured Supplier

Bioquell is a global leader in the design, manufacture and application of risk reduction solutions using bio-decontamination of airborne and surface contamination in the pharmaceutical, life science, healthcare and defence sectors. The Andover-based company operates several overseas offices and boasts a growing international distributor network.