GMC calls for medical training evolution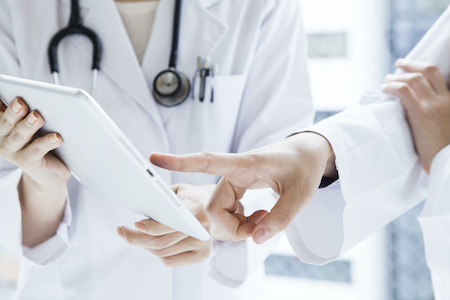 Medical education and training must adapt to equip doctors for the changing and complex demands of the health system, says the Chair of the General Medical Council (GMC).
Dame Clare Marx told attendees at the GMC's virtual conference that the pandemic has been a catalyst for positive change – despite the huge disruption it has caused.
She said it has highlighted the need for doctors to have generalist skills to cater for patients with multiple health problems in a holistic way. Medical training pathways in the UK too often focus on doctors becoming specialists as they progress through their careers, rather than supporting a more generalist approach.
Calling for more flexible training, Dame Clare said: "While this increased specialisation has been crucial in treating single diseases, it has not always supported patient care. To meet today's needs there must be a more systematic approach, looking at the patient as a whole. It must be embedded throughout a doctor's career, from medical training to the end of their careers by continuous professional development.
"The GMC will work alongside medical schools, Royal Colleges and the governments of the UK to consider how this is delivered. The prize will be doctors with both the specialist skills they need and the foundation to adapt and learn."
Dame Clare also highlighted the success of introducing the interim foundation year posts (FiY1) for newly-qualified medical graduates to bridge the gap between education and practice. It follows the GMC's move in 2020 to approve an additional 550 training locations to allow doctors to count work towards their training progression.
The GMC's National training survey found that those who undertook the interim foundation posts felt more prepared for their foundation training than those who did not. She said the GMC will look at locking in these benefits for future graduates.
Dame Clare said: "At the heart of this (the pandemic) is the ability to respond to the changing context in which doctors work. As the pattern of health and disease in the population evolves, so too must doctors' skills.
"That requires education and training that prepares doctors for the realities of practice today. It also requires a genuinely inclusive approach, that gives all doctors the best possible experience of medicine throughout their careers. And it requires us all to be flexible, adapting as the situation demands. We at the GMC are committed to playing our part in delivering this. But we can't do it alone. Genuine change will only come as part of a system-wide effort. So, let's seize the opportunity we have now, so we can continue to deliver for the patients we serve."
Other News
Featured Supplier

Kimal is an innovative manufacturer of customised procedure packs and vascular access devices, to clinical departments in over 70 countries worldwide. The company manufactures over 2 million procedure packs and vascular access devices every year for a range of specialities.