Mobile theatre installation enables Trust to tackle waiting lists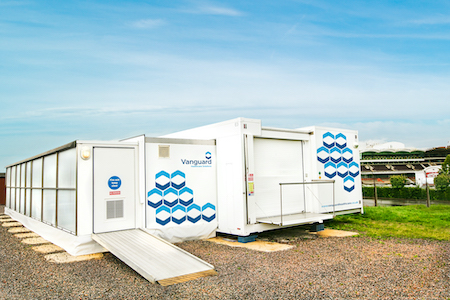 A UK medical technology company is helping reduce Buckinghamshire Healthcare NHS Trust's cataract surgery waiting list.
Gloucester-based Vanguard Healthcare Solutions is working alongside the Trust's innovative ophthalmology team, who have been leading the way nationally by being one of the first NHS Trusts to have resumed surgery just weeks after the first Government-instigated lockdown in March. Since resuming surgeries in May, the Buckinghamshire team has safely and successfully completed 1,500 operations.
The team is planning to kick-start the next phase of recovery with an intensive project which will see the Trust deliver 500 operations in just two weeks. Following this and building on the success of a pilot project alongside Vanguard Healthcare Solutions in 2019, a bespoke standalone theatre has been built to enable the team to perform an additional 4,000 cataract operations over the next year, as well as offer 2,000 additional appointments for patients.
The operating theatre was designed and installed by Vanguard and Alcon, who worked closely with the Trust's ophthalmology team to create a tailored solution for tackling the cataract surgery waiting list.
Simon Squirrell, national sales manager at Vanguard Healthcare Solutions, said: "We have worked closely with the teams at Alcon and the Trust to create a bespoke ophthalmic hub which not only provides a mobile theatre environment for the Trust's clinical teams to perform cataract procedures, but also self-contained patient reception and staff facilities, tailored to meet the hospital's needs."
Sarah Maling, consultant ophthalmologist and joint lead for the cataract service at Buckinghamshire Healthcare NHS Trust, said: "Our Trust has managed to deliver over 1000 successful cataract operations during the last lockdown and has been supported by NHS England to establish a stand-alone cataract facility. We are delighted with this support and look forward to continue to care for all of our patients during these challenging times."
Ross Bergin, head of commercial solutions at Alcon UK & Ireland, said: "We are extremely proud to partner with Vanguard and the Trust on this initiative to restore patients' vision in a timely manner by integrating new safety protocols seamlessly into innovative treatment pathways. Combined with our latest technology in intraocular lenses, phaco equipment and dedicated technical service support, we aim to provide the best experience to patients within Buckinghamshire Healthcare NHS Trust."
Other News
Featured Supplier

Kimal is an innovative manufacturer of customised procedure packs and vascular access devices, to clinical departments in over 70 countries worldwide. The company manufactures over 2 million procedure packs and vascular access devices every year for a range of specialities.