Air-disinfection and virus destruction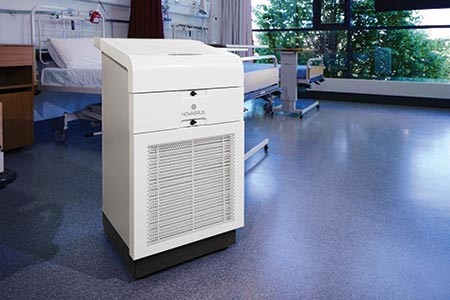 Novaerus air disinfection devices, from H&R HEALTHCARE, provide the first line of protection against airborne viruses and bacteria.
Many hospitals worldwide, including in Wuhan, China, have installed the device to help reduce transmission of SARS-CoV-2 among healthcare workers and patients.
Powered by Nanostrike technology, Novaerus uses patented, plasma-based, nanotechnology which kills all airborne microorganisms on contact. The atmospheric plasma discharge – the same type found in lightning strikes – kills and deactivates harmful airborne microorganisms.
Novaerus portable devices come in three configurations to suit different requirements. The Protect 200 is compact yet powerful, designed for small rooms or offices, while the Protect 800 is designed for medium sized rooms, such as wards, clinics and communal areas.
These low energy devices are also low maintenance. The most powerful device, Defend 1050, combines NanoStrike technology with a triple-stage filtration system from Camfil. The Defend 1050, which provides purification and particle removal within the cleanroom and infectious diseases environment, has been independently tested and proven effective in reducing airborne viruses. With no harmful by-products, all devices can operate continuously around patients and staff, treating the air in real life conditions, 24/7.
See more about H&R Healthcare Ltd
Other News
Featured Supplier

Hygiena delivers rapid microbial detection, monitoring, and identification solutions to a wide range of industries, including food and beverage, health care, hospitality, pharmaceuticals, and personal care.