The countdown is on: virtual.MEDICA + virtual.COMPAMED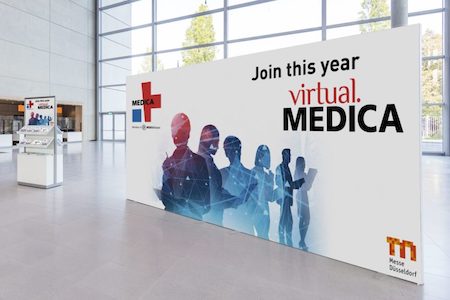 The countdown is on: virtual.MEDICA + virtual.COMPAMED hit the starting line with a full programme and innovations from around 1,400 exhibitors.
For the first time in their history, the world-leading medical trade fair MEDICA and the international number one event for the medical manufacturing supply market, COMPAMED, will be held entirely online as virtual.MEDICA and virtual.COMPAMED from Monday, with around 1,400 exhibitors hailing from 56 countries. Throughout the four days of the trade fair (16 – 19 November 2020), international online visitors from all sectors of the healthcare industry will be offered a diverse programme at https://virtual.MEDICA.de and https://virtual.COMPAMED.de. This programme consists of three central areas: The Conference Area (conference and forum programme), the Exhibition Space (exhibitor and product innovations) and the Networking Plaza (networking/matchmaking).

A four-hour German stream and a six-hour English stream, which together comprise 400 speakers in 321 individual programme events, will run in the Conference Area on each day of the trade fair from 10 am. One of the numerous highlights takes place at around 3 pm on the very first day (16.11.) in the German stream for the MEDICA ECON FORUM, when the German Federal Minister of Health Jens Spahn will discuss the outlook for healthcare policy with Jens Baas, the Chairman of the Board of Directors for the Techniker Krankenkasse, a German health insurance fund.

The highlights on the second day will include the finale of the 9th MEDICA Start-up COMPETITION (17.11. at 14:10 pm). Within the scope of the MEDICA CONNECTED HEALTHCARE FORUM, the creative founder scene will pitch their developments within the fields of apps, diagnostics, robotics and artificial intelligence solutions for the healthcare sector, with all participants striving to get their hands on the winner's trophy.

Laboratory medicine plays a special role in coping with the corona pandemic. virtual.MEDICA draws our attention to this with the MEDICA LABMED FORUM, held in the Conference Area. On the third day (18.11. at approx. 12:10 pm), Prof. Hendrik Streeck is among the speakers partaking in an English session on the current developments in SARS-CoV-2 testing (Severe Acute Respiratory Syndrome Coronavirus 2).

The final day (19.11.) also has a range of exciting sessions on offer which reflect our times and stay on the pulse of technical development. For example, the MEDICA TECH FORUM, held under the aegis of two trade associations, Germany's Association for Electromedical Technology (ZVEI) and SPECTARIS, looks at "Hygienic design and antimicrobial technology in medical products for preventing infection" (at 11:00 am).

We have also integrated programme streams for the military medicine conference DiMiMED, the MEDICINE + SPORTS CONFERENCE and the 43rd German Hospital Conference into the Conference Area, and these will, of course, also be held as fully virtual events.

Online showrooms in the Exhibition Space

The combined exhibitor database for virtual.MEDICA and virtual.COMPAMED is already online in the Exhibition Space. It offers access to the online showrooms from the 1,400 companies. The Casio technology group is taking part in MEDICA for the first time. Casio's development engineers have mapped their expertise in image processing technology onto the medical sector. Within the scope of their appearance at virtual.MEDICA, they will discuss a medical camera created specifically for use in dermatological settings (to record sections of skin close-up and in normal range). Software and cloud services for handling the images recorded will be presented along with this.

LG Electronics is predominantly focusing on outputting medical imaging data. Monitors with incredibly high resolutions which can be used in surgery or for diagnostic purposes (e.g. for mammography) will be presented. "They can be used in home offices too. Then we can carry out screening outside clinics and practices via teleradiology if we have the right technical equipment", adds Nils Becker-Birck, Director of IT Solutions for DACH at LG Electronics Europe. "MEDICA has become a fixed date in the calendar every year for us. Many of the elements that make MEDICA so special can now also be seen online, thanks to the technical infrastructure of Messe Düsseldorf. We're very pleased to be able to present new solutions and find opportunities to experience the technology live with interested parties in the weeks and months following the event", says Nils Becker-Birck, looking to the future with excitement.

Microtechnology for combating COVID-19

Innovative products that will help us to overcome the pandemic quickly and effectively also constitute a main focal point at virtual.COMPAMED for the supplier market in medical manufacturing. Numerous companies from the microtechnology sectors are active here. Many of these are members of the IVAM Association for Microtechnology. This Association will shape the English HIGH-TECH FORUM held in the Conference Area of virtual.COMPAMED. They will hold their own session under the title "The Fight Against the Coronavirus" on the second day of the trade fair (17.11, from 2 pm). Microfluidics is a core technology here, with respect to advancing reliable and economic rapid tests and point-of-care diagnostics. Microfluidic systems have many advantages, notably including short analysis times, reduction of production costs and low consumption of samples and/or reagents. These are all points that play a huge role in fighting the pandemic. For example, automated analytic devices are a prerequisite for providing large testing capacities for the novel coronavirus. This automation increases test numbers significantly as it uses faster processes which are ran in parallel, saves on personnel and assures process reliability.

virtual.COMPAMED comes at exactly the right time for Dr. Thomas Dietrich, Executive Director of the IVAM: "We haven't had any trade fairs at all for a long time, and thus haven't had the chance to speak to the exhibitors and visitors. At last, we can do this again, and we at IVAM will be delighted to receive anyone that wishes to talk to us with an open ear, whether you want to discuss new products and procedures or research that has been done during the corona period."

All information on virtual.MEDICA and virtual.COMPAMED (16 - 19 November, daily from 10 am), on free registration for online visitors and on networking in the Networking Plaza can be viewed at: https://virtual.MEDICA.de and https://virtual.COMPAMED.de.
See more about Messe Düsseldorf GmbH
Other News
Featured Supplier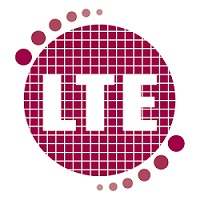 Established since 1947, LTE Scientific is a leading European manufacturer and supplier of laboratory and medical equipment, which is sold extensively into the public and private sectors, including Healthcare, Further Education, Pharmaceutical, Biotech, Research, Food/Beverage, Technology and Industrial.
Upcoming Events
Marshall Arena, Stadium MK, Milton Keynes Stadium Way West Milton Keynes MK1 1ST
30th June - 1st July
Crowne Plaza, Bridge Foot, Stratford-upon-Avon, CV37 6YR
4th - 5th April
Access the latest issue of Clinical Services Journal on your mobile device together with an archive of back issues.
Download the FREE Clinical Services Journal app from your device's App store