Distribution deal signed for pioneering anaesthesia device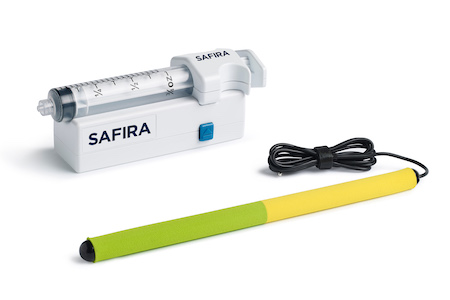 Medovate and Vygon Group have announced that they have signed an exclusive deal to distribute SAFIRA (SAFer Injection for Regional Anaesthesia) across 60 countries.
Vygon will start a phased launch of SAFIRA in Europe at the end of 2020, with other global markets to follow. Developed in collaboration with UK National Health Service (NHS) clinicians, SAFIRA transforms the technique of Peripheral Nerve Blockade into a one-person procedure, giving the anaesthetist full control of the injection at all times.
The technology also improves patient safety by helping reduce the risk of nerve damage, as it prevents anaesthetic from being injected at high pressures. Furthermore, economic modelling has shown SAFIRA has the potential to help generate significant time and cost savings in a medical setting.
Amid the current COVID-19 pandemic, the European Society for Regional Anaesthesia (ESRA) has recommended that regional anaesthesia be considered whenever surgery is planned for a suspected or confirmed COVID-19 patient. Regional anaesthesia preserves respiratory function and avoids aerosolisation and the potential for transmission of COVID-19, compared to general anaesthesia. By making regional anaesthesia a one-person procedure SAFIRA helps hospitals meet these recent recommendations.
"This agreement with Vygon marks a significant milestone in the launch of SAFIRA across Europe, the US and a number of other markets," said Stuart Thomson, managing director, Medovate. "This will help establish Medovate on the world stage as a recognised medical device developer and manufacturer. In addition, it raises the international profile of the UK NHS and its clinicians, who are key stakeholders in Medovate and inventors of the SAFIRA innovation."
"This is a very exciting partnership for Vygon," said John Kerridge, vice president, anaesthesia & emergency business unit, Vygon. "The SAFIRA technology, in terms of its impact on patient safety and clinical end-user efficiency, is in-line with our overall objective of patient/practitioner-based healthcare solutions. The fact that in the very near future the SAFIRA technology will be available in NRFit format further supports this objective. It will enable us to offer a complete NRFit solution for those markets that demand it."
NRFit (trademark of GEDSA) devices provide dedicated connectors, compliant with ISO 80369-6. NRFit connectors aim to reduce the risk of wrong route administration of medications associated with Regional Anaesthesia procedures.
Other News
Featured Supplier

We are the foremost auctioneers and asset managers to the health sector and the leading medical equipment resellers in Europe. Founded over 25 years ago, we actively created a market for used medical equipment and convinced hospitals to sell assets, developing processes specific to the health sector.