Hygienic, Sealed Clinical & Industrial Keyboards & Mice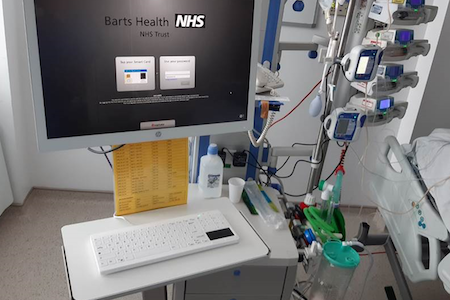 Active Key is a leading designer and provider of hygienic, clinical & sealed industrial keyboards & mice for professional data input that are cleanable and sanitizable for use in the European market.
Wired, wireless product with IP65 & IP68 rating plus 'back lit' versions for dark environments. Some have integrated touch pads, card readers and smart card readers. Also offered in different footprint sizes for different applications.
Founded in 2005, the company has over 75-man years' experience in the industry of data input products for all applications and environments. In-house engineering & design capability for custom & special applications welcomed. Large warehouse stocks to support the European market in all language variations.
CLINICAL ENVIRONMENT KEYBOARDS AND MICE
There are very special requirements for medical keyboards and mice. Traditional keyboards and mice can only be cleaned very simply and not sanitized. This is very critical as in healthcare applications keyboards are often used by several people at the same time or a station adjacent to a patient and therefore pose a threat of germ transference and proliferation.
Sanitizable keyboards and mice from the Active Key MedicalKey™ range are the best solution for working in controlled hygienic environments. Being completely sealed the devices are compatible with the most common cleaning and disinfection fluids. As a result, the keyboards can easily be implemented into any established cleaning processes and regimes.
Active Key have worked extensively with UK leading NHS approved sanitize wipe suppliers and can provide COVID-19 clean surfaces for data input when such combinations are used. Whether at the dentist, at practitioners, in hospitals at ITU or in any other hygiene critical application, Active Key branded keyboards and mice help to avoid cross contamination on the keyboard at the workplace. Full details of certified UK & European cleaning agents are available upon request including peer tested sanitization testing reports.
Test and approval samples available upon request…
T +44 (0)1223 631770
M +44 (0)7375 072055
See more about Active Key UK Ltd
Other News