South Warwickshire NHS Foundation Trust ups COVID recovery CT imaging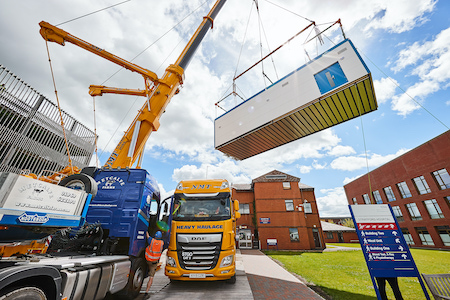 West Midlands location has been allocated one of fifteen relocatable Canon Medical CT Scan Units as part of NHS England's COVID-19 recovery plan to expand patient access to diagnostic imaging.
The impact of COVID-19 on diagnostic imaging at South Warwickshire NHS Foundation Trust has increased demand for chest CT scans, created a backlog of routine patient scans, and increased time for cleaning CT scan rooms between patients. It is estimated that an extra 62 hours of CT scanning time is required per week.
To meet imaging demand, NHS England has allocated Stratford Hospital, a community site at South Warwickshire NHS Foundation Trust, with one of fifteen specially commissioned Canon Medical Systems relocatable CT Scan Units. The cost has been met by NHS England and NHS Improvement's COVID-19 recovery fund, with installation, staffing and maintenance picked up by the Trust for the 18-month period.
Helen Lancaster, Director of Operations at South Warwickshire NHS Foundation Trust states, "We are thrilled to be allocated this capital resource by NHS England / Improvement. Year-on-year demand for CT scans has grown significantly and is unlikely to decrease given the changes required in cancer pathways and diagnostic techniques. With the added considerable impact that the COVID-19 pandemic has had on the Trust's capacity to perform many diagnostic procedures, the implementation of the CT scanner at Stratford Hospital is significant in ensuring our patients are seen and treated as soon as possible."
The CT Scan Unit is an easily transportable, temporary scanning facility featuring CT scanner, control room and patient changing area. Designed and made in the UK by Canon Medical Systems as a direct response to the Coronavirus crisis, the units can be easily deployed to hospital sites on the back of a lorry and sited in car parks to provide instant imaging capacity. Each unit features a best-of-breed Canon Medical Aquilion CT scanner and features correct clinical flooring, hospital grade heating, ventilation and air conditioning (HVAC) requirements plus datalink connectivity. The CT scanner also includes 'InnerVision™', a remote diagnostics software solution that can predict, diagnose or fix system issues fast without the need for engineers to visit hospital sites.
Mark Hitchman, Managing Director of Canon Medical Systems UK states, "The relocatable CT scan unit was quickly designed and manufactured by our team and partners at the start of the Coronavirus crisis. It is a quick-to-deploy solution for hospitals needing additional imaging capacity for routine work, or a separate red / infectious zone to keep COVID-19 risk patients separate. It can be positioned without building works or hospital reconfiguration by simply being sited in a car park or land adjacent to a hospital. We are delighted to see the corona-concept now being rolled out to hospital locations such as South Warwickshire NHS Foundation Trust. We will continue to be on-call to deliver maintenance and swift resolutions to problems by our virtual remote service solution."
See more about Canon Medical Systems
Other News