Significant upgrades on QA4 Day Surgery Trolley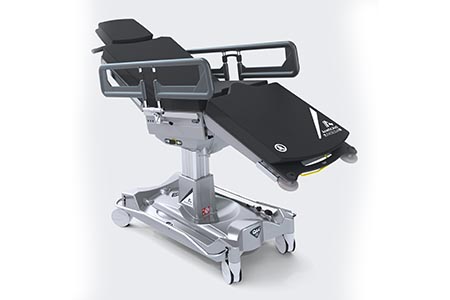 ANETIC AID has released a new model of its QA4 Day Surgery Powered Trolley, offering three significant upgrades designed to match latest trends and practices:
Powered lateral tilt: provides effortless hands-free movement for patient positioning without compromising the sterile field.
Improved manoeuvrability: taking technological advances from its popular QA3 Patient Trolley steering mechanism.
Reinforced articulating leg section: allows for special attachment for shoulder arthroscopy procedures.
CEO Guy Schofield, commented: "We have always worked closely with surgeons and other healthcare professionals to understand their needs as the range of procedures has grown, particularly those involving keyhole surgery. Positioning the trolley in lateral tilt is ideal for laparoscopic procedures such as cholecystectomy (gall bladder removal) as it provides fundamentally easier access for the surgeon."
The focus on increased manoeuvrability recognises that day surgery is no longer carried out in dedicated units – it has moved into mainstream theatre. Now, all new QA4 Surgery trolleys are fitted with the sophisticated fifth wheel steer mechanism developed for the flagship QA3 patient trolley.
Another key focus for the design team at the British-based manufacturer has been to ensure the trolley can accommodate specialist attachments for specific procedures. The reinforced articulating leg section to take a shoulder arthroscopy kit is an example of this, and Anetic Aid has also developed a new Dual-articulating Head Positioner for ophthalmics.
Other News