Improving care in the operating theatre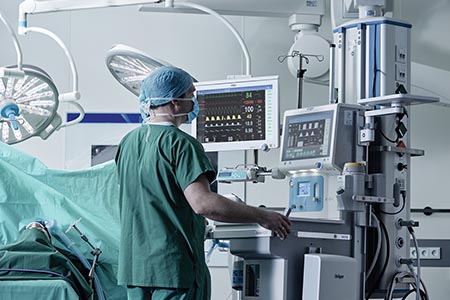 DRÄGER provides a wide range of operating theatre technologies to help improve patient care.
Included in the portfolio is the company's anaesthetic machine which can be mounted onto a pendant, such as the Movita, allowing adjustable positioning for various clinical procedures, while supporting infection prevention control.
The company aims to ensure workplaces are designed with customised solutions that support all customer needs and clinical specifications using its state-of-the art Dräger Design Centre and 3D rendering software.
Operating theatre solutions, from Dräger, include: medical pendant solutions, surgical and examination lights and workstation components. Also helping to improve patient care are Dräger's patient monitoring systems, which help to create integrated, economical and productive workflows across acute care departments. Having immediate access to critical information on a patient monitor, enables clinicians to quickly react, avoid errors and save valuable time when attending to patients
The company also supplies over 2,000 accessory items. The latest edition to the range is the disposable anaesthesia face mask, SediStar, which features a soft and anatomically shaped lip as the sealing interface to the patient's face.
See more about Draeger Medical UK Ltd
Other News