Demand for Air free patient warming technology soars in response to COVID-19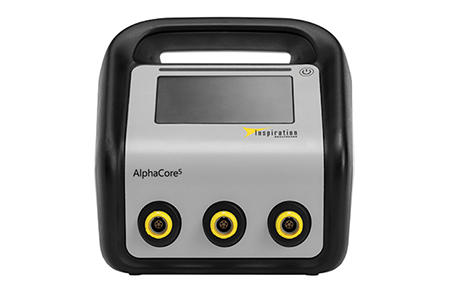 COVID-19 has fundamentally changed the way in which we care for patients and has challenged the safety of our healthcare workforce.
Managing aerosol generating procedures safely has become a major focus. The risks associated with this devastating disease has prompted a review of the current workplace practises in our operating theatres and procedure rooms. Patient warming systems traditionally use forced air, and whilst effective may not be suitable in the infectious diseases setting.
Inspiration Healthcare has a solution that can easily be deployed to mitigate patient heat loss safely and effectively. AlphaCore5's resistive patient warming system safely, silently and effectively maintains patient normothermia during surgery without the use of forced air. This can play an important role in protecting the healthcare workforce from superspreading events (SSE) during aerosol generating procedures.
Providing care in full PPE kit can be challenging, and it gets hot! AlphaCore5 only warms the patient when in contact with the mattress. This ensures the room temperature remains stable, as well as your patient.
Adopting AlphaCore5 can reduce costs. From the NICE 2008 cost comparison, resistive warming reusable mattress systems cost £1.25 per surgery compared to forced air warmers at £17.20 per surgery.
Zero disposable cost, zero infectious waste produced, the NHS will save money.
Implementing new technology can be a challenge and now more than ever. Fortunately, there is a flat learning curve when adopting AlphaCore5. Just plug in, warm up and it's ready to go. The AlphaCore5's universal mattress is adaptable to most OT tables and bed configurations. With no infectious waste produced, simply wipe down the mattress at the end of the case, and you are ready for your next patient.
The UK was the first major economy in the world to legislate its contribution to climate change. The health and care system in England is responsible for an estimated 4-5% of the country's carbon footprint. The NHS has committed to reaching Net Zero, and we're here to help.
AlphaCore5 can be part of the NHS Net Zero strategy. Using low wattage, and no disposable consumables, adopting AlphaCore5 can make a drastic impact on reducing the amount of plastic waste generated. In high volume surgical procedures lasting over 30 minutes, converting to resistive warming can have a significant environmental and economic impact.
Inspiration Healthcare provides a comprehensive learning management system and a 24-hour customer support phone line. Helping to facilitate remote product training and ensuring clinicians have the support they need to confidently deploy our products.
To learn more about how we are supporting COVID-19 and how we can help reduce your patient warming costs, please visit our website: www.inspiration-healthcare.com
Inspiration Healthcare wishes to acknowledge and thank all our NHS workers for their commitment and dedication in providing world class care during this challenging time. We are here to support and serve you.
References available on request.
See more about Inspiration Healthcare Ltd
Other News
Featured Supplier

Brandon Medical is a UK manufacturer and designer of world-leading technology for operating theatres, critical care areas and primary care institutions. For over 70 years, Brandon Medical has provided healthcare professionals with reliable, high-quality and affordable medical equipment packages for operating theatres and critical care.
Upcoming Events
Dubai World Trade Centre
24th - 27th January
National Conference Centre, Birmingham
8th - 9th February
Crowne Plaza, Bridge Foot, Stratford-upon-Avon, CV37 6YR
4th - 5th April
Royal College of Physicians, London
11th May 2022
Coventry Building Society Arena
19th May 2022
Coventry Building Society Arena, Phoenix Way, Rowleys Green, Coventry CV6 6GE
28th - 29th June
Access the latest issue of Clinical Services Journal on your mobile device together with an archive of back issues.
Download the FREE Clinical Services Journal app from your device's App store