The Science of Safe Surfaces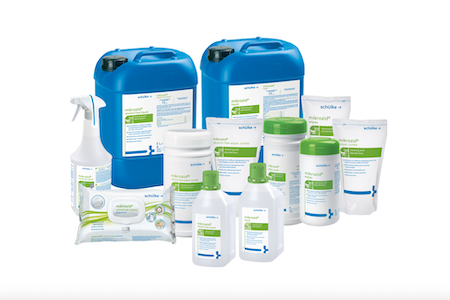 Effective surface disinfection has never had a more crucial part to play in helping keep hospitals safe for both staff and patients. It is well documented that human coronaviruses can survive for days on inanimate objects.
SARS-CoV2 can remain on plastic and stainless steel for up to 72 hours, on copper for 4 hours and cardboard up to 24 hours. [1] This means the risk from contaminated surfaces is high.
mikrozid® for surface disinfection against COVID-19
Adequate cleaning and disinfection are essential to minimise the infection risk. This requires the selection of the most appropriate disinfectants, assessing their capability to inactivate or kill microorganisms and then using the products correctly. There is a wide choice of disinfectant formulations available and the most appropriate disinfectants should be selected depending on what they are to be used for and what type of surface requires disinfecting.
The main function of a disinfectant lies in its ability to kill or inactivate microorganisms. Therefore, a key step in the selection process is ensuring the disinfectant has the required level of biocidal activity. Some surfaces will require a sporicidal disinfectant, others may require a bactericidal and virucidal product. But even if a disinfectant claims to be 'bactericidal and virucidal' the concentration and contact time required for the disinfectant to be effective needs to be checked.
One way to ensure that a disinfectant has been rigorously tested for the intended use is to check that it has been tested to the relevant and most up to date European Norms (EN). Even since the UK's departure from the EU, European Norms are likely to continue providing the 'gold standard' tests for disinfectants in the UK, for the foreseeable future.
For hospital use, there are a number of applicable EN standards. In the current coronavirus pandemic EN 14476:2013 which evaluates disinfectants for their virucidal activity is particularly useful. A disinfectant conforming to this EN will have been thoroughly tested to rigorous standards.
Choosing the optimum disinfection products may mean that different ones are required depending on the surface to be cleaned. The mikrozidÒ range offers products suitable for use on most hospital surfaces and all mikrozid products are virucidal against enveloped viruses, including coronaviruses in one minute.
A virucidal, ethanol-based disinfector/cleaner such as mikrozid liquid could be used to clean and disinfect hard surfaces, whereas mikrozid alcohol-free may be needed to clean and disinfect surfaces sensitive to alcohol like leather, PVC and acrylic glass. mikrozid universal is a low-alcohol disinfectant which can be used where a material friendly disinfectant is required such as when cleaning high value items like touch screens, sensitive items such as tablets and smart phones, as well as equipment in patient treatment units.
Besides an extensive range of infection prevention and control products, schülke also offers CPD accredited online training courses. These focus on different aspects of hygiene and infection prevention during the current COVID-19 pandemic.
https://www.schuelke-learning.com/
schülke UK, Cygnet House, 1 Jenkin Road, Meadowhall, Sheffield, S9 1AT 0114 254 3500 / www.schuelke.com / email: [email protected]
References
1. van Doremalen N et al, Aerosol and Surface Stability of SARS-CoV-2 as Compared with SARS-CoV-1, N Engl J Med, 2020
See more about schülke & Mayr UK Ltd
Other News
Featured Supplier

Nanosonics is a global infection prevention innovator and inventor of trophon®2, a breakthrough disinfection technology which is setting the new standard of care globally for ultrasound probe reprocessing. trophon2 is an updated version of the popular trophon EPR device.
Upcoming Events
Dubai World Trade Centre
24th - 27th January
National Conference Centre, Birmingham
8th - 9th February
Crowne Plaza, Bridge Foot, Stratford-upon-Avon, CV37 6YR
4th - 5th April
Royal College of Physicians, London
11th May 2022
Coventry Building Society Arena
19th May 2022
Coventry Building Society Arena, Phoenix Way, Rowleys Green, Coventry CV6 6GE
28th - 29th June
Access the latest issue of Clinical Services Journal on your mobile device together with an archive of back issues.
Download the FREE Clinical Services Journal app from your device's App store