The science of safe surfaces - mikrozid® for surface disinfection against COVID-19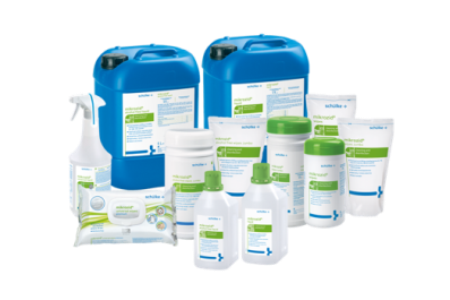 Surface cleaning has never been more critical than in the current COVID-19 pandemic. Public Health England advised in April 2020 that 'There is evidence from other coronaviruses of the potential for widespread contamination of patient rooms or environments, so effective cleaning and decontamination is vital.'
The Department of Health recommends that patient isolation rooms, cohort areas and clinical rooms must be decontaminated at least daily.
Clinical rooms should also be decontaminated after clinical sessions for patients with possible or confirmed COVID-19.
Human coronaviruses can survive on inanimate objects. The virus causing COVID-19 has been found to remain on plastic and stainless steel for up to 72 hours, on copper for 4 hours and cardboard up to 24 hours. [1] This means the risk of contracting coronavirus and becoming infected through touching contaminated surfaces is high. [1] Therefore adequate disinfection is essential to minimise the risk of infection.
Coronaviruses are classified as 'enveloped' viruses, compared to other viruses, such as rotavirus, or poliovirus which are termed non-enveloped. Enveloped viruses possess an envelope or outer coating that is composed of a lipid layer (fat-like substance which is water insoluble). The envelope is needed to help the virus attach to the host cell. Loss of this envelope results in loss of infectivity.
Choosing the optimum disinfection products may mean that different ones are required depending on the surface to be cleaned. The mikrozid® range offers products suitable for use on most hospital surfaces and all mikrozid® products are virucidal against enveloped viruses in one minute.
It is known that ethanol shows a significant activity on the human coronavirus [2] so a virucidal, ethanol-based disinfector/cleaner such as mikrozid® liquid could be used to clean and disinfect hard surfaces, whereas mikrozid® alcohol-free may be needed to clean and disinfect surfaces sensitive to alcohol like leather, PVC and acrylic glass. mikrozid® universal is a low-alcohol disinfectant which can be used where a material friendly disinfectant is required such as patient treatment units and sensitive equipment.
An efficient disinfection process should always include a precleaning step to remove soil and organic contamination from a surface using the physical action of scrubbing and the chemical action of a detergent. This process is designed to remove organisms rather than kill them and helps to ensure the efficacy of the subsequent disinfection step.
Besides an extensive range of infection prevention and control products, schülke also offers CPD accredited online training courses. These focus on different aspects of hygiene and infection prevention during the current COVID-19 pandemic.
https://www.schuelke-learning.com/
schülke UK, Cygnet House, 1 Jenkin Road, Meadowhall, Sheffield, S9 1AT 0114 254 3500 / www.schuelke.com / email: [email protected]
References
1. van Doremalen N et al, Aerosol and Surface Stability of SARS-CoV-2 as Compared with SARS-CoV-1, N Engl J Med, 2020 doi:10.1056/NEJMc2004973
2. Geller, C., Varbanov M., Duval, R.E. Human Coronaviruses: Insights into Environmental Resistance and Its Influence on the Development of New Antiseptic Strategies; Viruses 2012, 4, 3044-3068
See more about schülke & Mayr UK Ltd
Other News