Overstretched NHS respiratory departments are hit by mounting pressures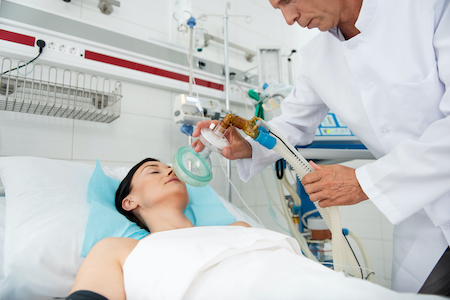 In November 2019, the British Thoracic Society (BTS) ran a survey which found that for many respiratory departments across the UK, the increase in number of patients requiring hospital admission typical of the winter months, known as winter pressures, had started as early October or, in some cases, had never stopped since the Winter of 2018.
BTS had published an updated survey four months on, which finds demand and staff shortages are more pressing than ever. The survey, sent to 247 respiratory leads across the UK (with ca. 30% response rate), highlights that:
The vast majority of respondents (73%) feel that respiratory healthcare staff shortages are impairing the ability of their local NHS organisation to cope effectively with the increase in emergency respiratory hospital admissions this Winter.
More than half (57%) of respondents report that there are no extra staff available in their department.
For 17%, the only additional support has been early career junior doctors.
Only three respondents (4%) have received additional support at all levels of the specialty (consultants, registrars and early career junior doctors).
The survey showed some respiratory teams are coming up with alternative solutions to cope with the increased workload, but that in many cases they had was no choice but to cancel outpatient clinics, non-emergency procedures, teaching and training.
The survey also highlights the pressure on beds this Winter:
20% of respondents report that the additional beds opened to cope with winter pressures now never close.
All respondents reported their trust had now opened additional beds, whether expanding into overflow wards or excess capacity beds, or simply they are still open since winter 2018/19.
Staffing pressures are a common theme throughout the survey, with many respondents (41%) providing detailed narratives of their staffing challenges, including struggling to recruit much needed additional staff.
Professor Jon Bennett, Chair of BTS, commented: "Opening extra beds for respiratory patients and trying to recruit extra staff only in the winter months is a strategy that might have worked in the past, but that is now failing the NHS year after year.
"What we are seeing are a mixture of mothballed wards being re-opened or wards already dedicated to other specialties being turned into "respiratory beds", staffed by non-respiratory specialist teams, with obvious repercussions for patients and the other hospital services.
"The struggle to provide quality care for respiratory patients in the winter is worsened by respiratory staff shortages; it's already difficult to hire the staff hospitals need throughout the year, never mind finding an untapped, seasonal source of respiratory professionals for the winter months only."
Vacancies exist across the workforce with physiotherapy and nursing mentioned specifically, as well as physicians. One respondent explained:
"Finding staff to meet additional demand in winter is a real challenge: the respiratory team has a busy inpatient load all year round and we can't really spare the staff to go and do winter pressures work."
These staff shortages are particularly concerning given the level of extra responsibility being thrust upon respiratory departments during increased Winter admissions:
46% of respondents said that the respiratory team look after 10 or more patients in beds outside their respiratory wards.
A small percentage (5%) reported that the respiratory team is responsible for more than 40 patients in beds outside of respiratory wards.
Professor Bennett continued: "We need to think of alternatives to just opening extra respiratory beds, and integrated care is one, where hospital specialists work with GPs in the community to manage patients with long term lung conditions, improve care and avoid hospitalisation.
"But we won't be able to do so unless we address the issue at the source, which is that we need to train more respiratory specialists."
The survey shows that, across the UK, short-handed respiratory specialists are being pulled in multiple directions. Respiratory clinicians are called to respond to winter pressures by filling gaps in other departments across their hospitals when their own wards are already understaffed. This risks respiratory patients not getting the specialist care they need.
Other News